Lee Sigley doesn't live far from 23rd Street, but he still tries to avoid the traffic-heavy road on his daily drive to work downtown.
"It's bad, very bad," Sigley said Monday afternoon, after having lunch at a 23rd Street restaurant. "Sometimes to get from stoplight to stoplight takes 15 minutes. It's not my favorite thing to do."
City officials don't much like the street, either. It's their frequent example of what is wrong with Lawrence traffic and partial inspiration for two proposed policies the City Commission will consider tonight.
Officials said if the policies were adopted the result could be cheaper, safer, easier-to-drive roads as the city continues to grow.
"If you manage your access, then your street system performs the way it's supposed to," said David Woosley, the city's traffic engineer. "You don't have to build as wide, or as many, streets to handle the traffic."
The proposals:
An "access management" policy to limit the number of places -- intersections and driveways -- along major roads where drivers can enter and exit traffic.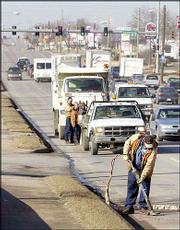 Too many access points along 23rd Street are thought to be the major culprit of traffic concerns there. Limited access on Clinton Parkway -- intersections every mile or so, with entryways into adjoining neighborhoods available on side streets instead of the main road -- are thought to be the reason traffic flows more easily there.
"The more access points you have, the more conflict you have along a roadway, and the less traffic that roadway can carry," Woosley said.
The policy would require that future major roadways look more like Clinton Parkway, less like 23rd Street.
A traffic-impact study policy that would define when developers must study how proposed projects would affect neighborhood traffic. The policy also defines the factors developers must take into account when performing the studies.




Bill Ahrens, the city's traffic planner, said current policy mandated traffic studies at the "discretion" of traffic and planning officials but set no firm criteria. When performed, the studies often lead to planners requiring developers to spend extra money to improve surrounding streets.
"This (new policy) sets some minimum thresholds," Ahrens said. "Our thinking is that the development community should like this, because it sets out expectations ahead of time."
The City Commission meets at 6:35 p.m. today at City Hall, Sixth and Massachusetts streets.
The proposed policy requires traffic studies be done if a development is expected to generate more than 100 car trips an hour during its busiest hour of the day. If a development is expected to generate more than 500 trips an hour, the study would cover a wider area of the city.
Bobbie Flory, executive director of the Lawrence Home Builders Assn., said her organization had not seen the proposals and would not comment.
But David Schauner, one of the commission's most ardent advocates of traffic studies, said the new policies would help Lawrence manage its traffic even as tens of thousands of new residents joined the city in coming decades.
"We're a surface-street town. The impact on our streets is going to be pretty dramatic as we continue to grow," Schauner said. "We need to collect this information so we can have a safer city to travel in."
The City Commission meets at 6:35 p.m. in City Hall, Sixth and Massachusetts streets.
Copyright 2018 The Lawrence Journal-World. All rights reserved. This material may not be published, broadcast, rewritten or redistributed. We strive to uphold our values for every story published.