A fire ripped through a south Lawrence mobile home Saturday afternoon, leaving a father and daughter with only the clothes on their backs and uncertainty about their future.
Lawrence-Douglas County Fire & Medical firefighters were dispatched at 3:19 p.m. to the Gaslight Village mobile home complex, 1900 W. 31st St., after residents noticed smoke billowing from the unoccupied residence.
Battalion Chief William Stark said fire investigators still were working late Saturday to determine the cause of the blaze. No one was injured.
Draped in a red and black flannel throw given to him by a neighbor, Reginald "Buck" Ballard, 45, who lives in the home, stood helplessly as firefighters tore through walls and floors putting out restless flames.
"I don't know what to say," Ballard said while embracing his 20-year-old daughter, Regina Wright, who also was living at the residence.
"Nothing like this has ever happened to us," said Wright, who recently moved from New Orleans to be with her father.
Stark said the fire already had reached intense levels when firefighters arrived. He said because of the lightweight construction materials mobile homes are built with, fires that start when the residence is empty are rarely contained before doing extensive damage.
"You just don't save too many mobile homes from fires," Stark said.
Only a set of charred chrome rims Ballard bought as a Christmas present for himself remained.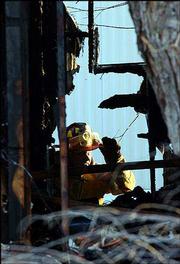 Firefighters were using thermal imaging devices to locate "hot spots," as Stark called them, of small hidden fires within the home's foundations, three hours after the fire erupted.
A Douglas County American Red Cross volunteer helped Ballard and Wright set up a place to stay for the night and arranged a dinner for the two, along with some clothes.
Neighbors Greg and Annette Evans offered cups of steaming coffee to Ballard and firefighters when temperatures started to drop.
"It'd be the same way if it was the other way around," Greg Evans said.
To help Buck Ballard and Regina Wright, contact the Douglas County chapter of the American Red Cross at (785) 843-3550.
"We're neighbors. We have to stick together."
Copyright 2018 The Lawrence Journal-World. All rights reserved. This material may not be published, broadcast, rewritten or redistributed. We strive to uphold our values for every story published.