This easy recipe for smoked turkey sausage and beans has plenty of flavor, but not a lot of fat -- about 9 grams per serving.
The dish would be nicely complemented with polenta or pasta, to make a tasty lunch or light meal. And it would be a great choice when you're too hungry to wait for a slow-cooked meal: Once you've sliced and chopped your ingredients, it takes only about 15 minutes cooking time.
Smoky Sausage and Beans
----
1 tablespoon olive oil
14-ounce package smoked turkey sausage, cut into 1/4-inch slices
2 cups sliced red bell peppers
2 cups thinly sliced onions
2 teaspoons minced garlic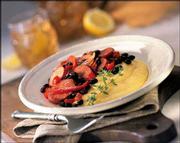 1 tablespoon Italian seasoning
1/4 teaspoon dried red pepper flakes
4 cups chopped tomatoes
Two 15-ounce cans black beans, or 3 cups cooked dry-package black beans, rinsed, drained
Cook sausage, bell peppers, onions, garlic, Italian seasoning and red pepper flakes in oil in large skillet until sausage is browned and vegetables are tender, 8 to 10 minutes.
Stir in tomatoes and beans, and cook, covered, over medium heat until tomatoes are softened, about 5 minutes.
Makes about 6 servings of 1 cup each.
Nutrition information per serving: 285 calories, 9 grams fat, 36 grams carbohydrates, 1,043 milligrams sodium, 19 grams protein, 9 grams dietary fiber and 41 milligrams cholesterol.
Copyright 2018 The Associated Press. All rights reserved. This material may not be published, broadcast, rewritten or redistributed. We strive to uphold our values for every story published.