Topeka — The state's top animal health official criticized the new federal ban on the slaughter of "downer" cattle for human consumption, suggesting Tuesday it was broad enough to cover animals showing no signs of mad cow or other diseases.
Livestock Commissioner George Teagarden said the week-old restriction imposed by the U.S. Department of Agriculture applied to all cattle that cannot move on their own.
"That creates a problem," Teagarden said. "It doesn't matter why they're down. We know there are many animals down for many reasons not related to disease symptoms."
For example, a cow may break a leg, he said.
"If you have a downer that has a broken leg and you can't get it butchered, your options are to burn, bury or compost," he said.
U.S. Agriculture Secretary Ann Veneman announced the ban as part of new restrictions designed to ensure food safety after the first-ever reported U.S. case of bovine spongiform encephalopathy, or BSE, was discovered last month in a single animal in Washington state.
BSE, or mad cow, eats holes in the brains of cattle, which contract it by consuming feed that contains protein and bone meal from cows. In 1997, the U.S. Food and Drug Administration banned the feeding of cattle parts back to cattle.
State and beef industry officials have said repeatedly there was little likelihood of a case in Kansas, absent an animal coming across the border.
Teagarden made his comments during a panel discussion of the disease, held as part of a farm show in Topeka. About 150 people attended, many of them cattle producers.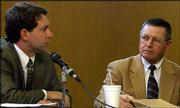 The USDA has estimated that about 130,000 downer cattle were sent annually to market before the ban. Teagarden said the state did not have its own estimate for the number from Kansas.
Last week, in announcing the USDA's restrictions, Veneman said they were based on sound science.
James Marsden, professor of meat science at Kansas State University, said the ban "certainly goes beyond any kind of scientific standard."
However, he added, "They're doing it to improve consumer confidence in the food supply."
And Kansas Agriculture Secretary Adrian Polansky said downer cattle represented a higher risk group for BSE than other cattle, but he acknowledged downer cattle could be injured, not diseased.
"Downer cattle, or non-ambulatory cattle, are not well understood," Polansky said. "I think there's a perception issue."
Teagarden said he would not predict what USDA officials would do in the future, but hoped they would reconsider their ban on downer cattle.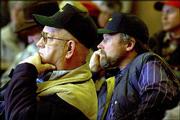 Meanwhile, state and industry officials continue trying to assess the effects of the Washington state case on the beef market.
Gregg Doud, chief economist for the National Cattlemen's Beef Assn., attributed much of the recent declines in cattle prices to the closing of export markets to American beef.
He said the cattle market was now "as stable as we can be," but was concerned about a glut in the domestic beef supply bringing prices down.
Polansky said he hoped the market would soon rebound.
"My view is that the market is in a place and time where we won't see much additional movement down," he said. But he added, "The markets are very difficult to predict."
Copyright 2018 The Associated Press. All rights reserved. This material may not be published, broadcast, rewritten or redistributed. We strive to uphold our values for every story published.