Even if Marcus Heckman's cup were empty, he'd say it was half full. Heckman is coach of Seabury Academy's winless boys basketball team, and he preaches optimism with a capital O.
"One of these games it's going to click," Heckman said. "I thought it might have been tonight."
It wasn't. Colony-Crest pulled away late in the third quarter and handed the Seahawks a 39-29 defeat Tuesday night in the Seabury gym.
Chad Stewart, a 5-foot-9 junior guard, killed the Seahawks by hitting five of seven three-point shots and finishing with a game-high 21 points.
"He's a good shooter," Heckman said of Stewart, "and when a team has a good shooter, we should cover him up, but we didn't."
Stewart scored 10 of the Lancers' 12 first-quarter points, but it was three Stewart baskets -- two of them three-pointers -- late in the third quarter that doomed the Seahawks.
Ahead by just a basket (20-18) with 3:32 showing in the third period, Colony-Crest rode Stewart's sizz to a 28-22 advantage as the quarter ended.
"He is a streak shooter," Colony-Crest coach Korey Lankton said of Stewart. "We have other scoring threats, but tonight he stepped up."
Colony-Crest hadn't attempted a free throw heading into the fourth quarter, but the Seahawks were forced to foul after falling behind by 10 points (32-22). The Lancers gave Seabury plenty of opportunities to mount a comeback by hitting just six of 13 free throws down the stretch, but the Seahawks couldn't hit a lick.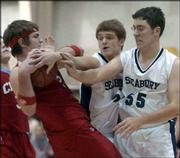 On the night, Seabury made only 12 of 45 shots for 26.6 percent. They also missed five of eight free-throw attempts. Colony-Crest, meanwhile, shot 39.4 percent (15-of-38).
Seabury forced 19 turnovers, but again couldn't make the Lancers pay for those miscues, either.
"They turned it over, and we didn't make anything happen," Heckman said. "Our depth became an issue late in the game. We wore down late. But we'll develop depth. We're a young team."
Heckman starts a junior, three sophomores and a freshman. One of the sophomores, Grayson Dillon, scored all eight of the Seahawks' points in the first quarter and finished with a team-high 14 points.
Seabury (0-7) will travel Tuesday to Englewood Christian. Colony-Crest is 3-4, but has won three of its last four.
Colony-Crest girls 39, Seabury 17
Colony-Crest won the battle of winless teams handily. Rae Westerman scored 12 points, and Sam Honn added 10 to lead the Lancers (1-6). Seabury (0-5) was led by Laura Frizell with five points. The Seahawks are averaging only 17.4 points a game.
They'll travel Tuesday to Englewood Christian.
Copyright 2018 The Lawrence Journal-World. All rights reserved. This material may not be published, broadcast, rewritten or redistributed. We strive to uphold our values for every story published.