For many, Girl Scouts are associated with badges, patches, Thin Mints and grade schools.
For Tricia Dunham, the organization means much more.
"I have learned a lot of good things about life, and the group of people provides a really nice environment," said Dunham, a Free State High School sophomore.
Taylor Inverarity, a ninth-grader at West Junior High School, also saw Girl Scouts in a different light. Girl Scouts taught girls "to accept people and to be more tolerant," she said.
Though many girls in Dunham's troop dropped out in sixth grade, Dunham remained involved. She said many girls dropped out of the troop because, "Girl Scouts is supposedly not cool."
Staying involved has allowed Dunham to make lifelong friends.
Inverarity said many of her friends dropped out because Girl Scouts was considered "dorky, and they were embarrassed to be in it, but they shouldn't care what others think." For her, the opportunities Girl Scouts has to offer outweighed the negatives. Inverarity and Dunham are Juliettes, members of Girl Scouts who do not belong to a troop. Inverarity is organizing a troop of girls her age.
As experienced scouts, the girls have opportunity to help out the younger generation. Girl Scouts has a "program aide" certification in which girls are trained to be leaders for their younger counterparts. After completion of the training, program aides become active in planning activities for younger girls. Inverarity was a program aide at Hidden Valley Girl Scout Day Camp in June.
The Girl Scouts' annual cookie sale, a major fund-raiser for the organization, kicked off Saturday in Douglas County. Even though Dunham does not sell cookies, she participates locally in the cookie sale by helping with the organizational aspect. All proceeds from the sale go to the Girl Scouts of Kaw Valley, the local Girl Scout council.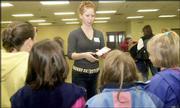 Dunham said badge work was no longer a priority. For her, the friends and the positive environment were what she enjoyed. Inverarity used to do badge work all the time, but she has recently been focused on her Silver Award, for which she installed fire detectors in trailer homes.
Girl Scouts has allowed Inverarity to participate in activities she normally wouldn't do.
"Especially the outdoor stuff like canoeing and hiking," she said.
Girl Scouts gave Dunham the opportunity to attend horse camp in the summer. She rode horses and studied animals at the camp.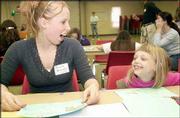 For most Girl Scouts, the organization used to be about the badges, patches and Thin Mints, but now, it is about giving something back to the community. With enough experience to give them wisdom, these girls have touched the lives of their successors.
Copyright 2018 The Lawrence Journal-World. All rights reserved. This material may not be published, broadcast, rewritten or redistributed. We strive to uphold our values for every story published.