Los Angeles — Lakers standout center Shaquille O'Neal sat out Sunday night's game against the Clippers because of a strained right calf, and Karl Malone was placed on the injured list for the first time in his career.

O'Neal left Friday night's 111-109 loss at Seattle in the second quarter because of the injury and did not return.
Lakers coach Phil Jackson said a decision would be made today as to whether O'Neal would travel for games Tuesday night at Minnesota and Wednesday night at Denver.
Malone must miss those games, as well as home games Friday night against Atlanta and Monday night against Cleveland, making it a minimum of nine he sits out because of a sprained ligament in his right knee.
Injured in the first quarter against Phoenix Dec. 21, the 40-year-old Malone didn't miss more than two games in any of his first 18 seasons -- all with Utah. He joined the Lakers as a free agent in July.
"He understood as soon as Shaq was injured," Jackson said regarding the decision to place Malone on the injured list. "He hasn't practiced yet. He's still a ways away."
To replace Malone, the Lakers activated forward/center Jamal Sampson, who had played in only two games before Sunday night. Sampson was placed on the injured list Nov. 23 because of back spasms.
Asked about the possibility of placing O'Neal on the injured list, Jackson replied: "I can't anticipate it's going to be that severe. I don't know."
Jackson said forward Rick Fox wasn't ready to play yet, but hopefully would be soon. Fox hasn't played since having surgery to repair a torn tendon in his left foot May 12.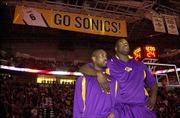 Both teams entered Sunday night's game having lost five of their last eight, and the Lakers had lost three of four since Malone was injured.
O'Neal, averaging 20.0 points, 11.6 rebounds and 2.44 blocked shots, missed two games in late November because of a strained right calf. The Lakers didn't miss him, beating Memphis, 121-89, and Washington, 120-99.
Copyright 2018 The Associated Press. All rights reserved. This material may not be published, broadcast, rewritten or redistributed. We strive to uphold our values for every story published.