Raiford, Fla. — For 44 years, Dennis Whitney's world has consisted largely of steel bars, razor wire and a metal bed with a three-inch mattress. He has grown old in prison, doing hard time for two murders committed when he was 17.
And with time have come the ravages of age: Whitney, 61, has undergone two angioplasties at state expense to clear narrowed or blocked blood vessels, and he needs a third such procedure. The first two cost a total of nearly $9,000.
Whitney and others like him represent a growing burden for the nation's prisons: The number of elderly inmates is rising fast, and so are their health care costs.
"It's a hidden problem in the system that's going to grow into a dinosaur soon. The cost and numbers are getting out of hand," said Herb Hoetler, chief executive of the National Institute on Institutions and Alternatives in Alexandria, Va.
Growing numbers
As of 2002, the most recent year for which statistics are available, 121,000 inmates age 50 and over were in state or federal prisons, more than twice as many as a decade earlier, according to the U.S. Justice Department.
Largely because of health care expenses, the average cost of housing an inmate over 60 is $70,000 a year, or about three times the average cost for prisoners overall, said John Mills, a researcher at the Centers for Disease Control and Prevention in Atlanta.
The rapidly aging prison population is attributed to a number of factors: the graying of the baby boom population; tough-on-crime measures that impose longer sentences and mandatory terms; and an increasing number of older people being convicted of sex crimes and murder.
The older inmates cannot simply be set free. Some are serving life sentences or long terms, and many of those who are up for parole are considered too dangerous to let out.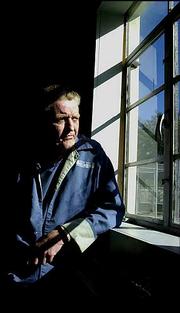 Special units
Across the country, states are taking steps to hold down the costs of elderly inmates.
At least 16 states have established separate facilities to house older inmates, and many are offering hospice care for dying prisoners, according to a 2001 summary in the industry journal Corrections Compendium. In Texas, about 200 inmates over 65 receive round-the-clock nursing care. Nebraska offers nursing home living for some inmates, and Oklahoma is setting up a prison unit for elderly inmates.
Florida's 50-and-over inmate population has climbed more than 10 percent in the past year to 8,625. (Florida's Corrections Department considers 50 and older to be elderly, arguing that inmates age faster than people on the outside.)
Little chance for release
Prison officials say 74 percent of the state's elderly inmate population is incarcerated for violent offenses, mostly sex crimes or murder, with about 30 percent serving life sentences.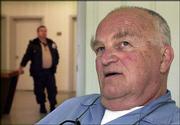 Forty-two inmates are 80 or older. The state's oldest death row inmate is 76 and was condemned for two killings committed 17 years ago. Florida's oldest inmate is Daniel Sallade, a 90-year-old serving a 23-year sentence for sex crimes against a child. He was sent to prison just three years ago.
'Warehousing situation'
Robert Doyle, a 67-year-old convicted killer serving a life sentence at Union Correctional, said many older inmates struggle because there was "absolutely nothing for them to do."
"You see people go downhill. They actually give up," he said. "This is a warehousing situation."
As for Whitney, he was convicted for two 1960 murders and admitted to five other slayings. He comes up for parole again next fall after being turned down time after time in the past 14 years."If they turn me down, I'm just going to let the state take care of me the rest of my life," he said. "I'm well-fed, well-clothed and well taken care of."
Copyright 2018 The Associated Press. All rights reserved. This material may not be published, broadcast, rewritten or redistributed. We strive to uphold our values for every story published.