Given one last chance to cheer Bill Whittemore, Kansas University football fans gave their senior quarterback a standing ovation Friday night at the Lied Center during the team's awards ceremony.
"I didn't know it was going to be an emotional night for me until I got up here," said Whittemore, who won the John Hadl Award as the team's offensive MVP. "It's been a long road for me. I don't know if I'll be playing anymore. If I'm not, I'm not. I'm happy and content. I loved being here at Kansas."
The Brentwood, Tenn., product's winding road started at Division I-AA Tennessee-Martin and ended at Kansas with a stop at Fort Scott Community College in between. Injuries hampered him at each stop, and his prospects for a pro career are uncertain because at 6-foot and 205 pounds he is considered small for an NFL quarterback.
The numbers he left in KU's record books, however, were huge. The co-captain threw for 2,385 yards and a school-record 18 touchdowns last season, despite missing three games because of a collarbone injury. He led KU to its first bowl game since 1995.
While Kansas must replace its leader in 2004, the Jayhawks will return eight starters from one of the most prolific offenses in school history.
"You ain't seen nothing yet," KU coach Mark Mangino told the crowd.
KU will have more holes to fill on defense, but not at linebacker. Gabriel Toomey, one of three sophomore starters at linebacker, won the Ray Evans Award as defensive MVP.
"It's going to be exciting around here," said Toomey, who led the team in quarterback hurries (seven), tied for the team lead in tackles for loss (10) and pass breakups (seven) and ranked second in tackles (121). "I can't wait until next year."
Toomey's fellow sophomore linebackers didn't go home empty-handed. Nick Reid earned the Willie Pless Award as the team's leading tackler with 133, and Banks Floodman won the Nolan Cromwell Award for leadership.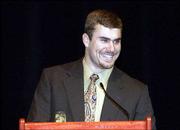 Backup linebacker Darren Rus shared the Bruce Kallmeyer Award as special teams MVP with senior punter Curtis Ansel, who averaged 41.2 yards per punt.
Other award winners were:
Special teams captain Zach Dyer earned the Senior Scholar Award. Dyer, who graduated last May, was a three-time Academic All-Big 12 honoree and is working on a Master's degree in sports administration.
Freshman tight end Derek Fine took home the Otto Schnellbacher Award as the top scout-team offensive player, and senior defensive tackle Tony Strickland won the George Mrkonic Award as the top scout-team defender.
Two offensive linemen were honored. Junior center Joe Vaughn, the Big 12 Conference Offensive Newcomer of the Year, was named the team's top offensive lineman. Senior Adrian Jones, who bulked up from 260 pounds to 280 to make the move from tight end to tackle, earned the Iron Hawk Award for outstanding performance in the weight room.
Senior safety Dan Coke won the Gale Sayers Award for courage. Defensive coordinator Bill Young accepted the honor for Coke, who is attending seminary school in Los Angeles.
Freshmen Charles Gordon and John Randle -- who both played offense, defense and special teams -- shared the Don Fambrough Award for unselfishness.
Mangino praised Fambrough, who still attends every KU practice more than 20 years after his last season as head coach. Fans, who earlier gave standing ovations to Whittemore and Mangino, tacked on a third for Fambrough.
"You got a better ovation than me," Mangino quipped. "When was the last time you won a game?"
Mangino -- and Fambrough -- will be back on the practice field soon. Spring drills begin March 14.
"This isn't the end," Mangino said. "This is the beginning."
Copyright 2018 The Lawrence Journal-World. All rights reserved. This material may not be published, broadcast, rewritten or redistributed. We strive to uphold our values for every story published.