Free State High boys basketball coach Jack Schreiner is thrilled his Firebirds won't have to face Olathe North again next week in a Class 6A sub-state.
FSHS eliminated that possibility by squeaking past the pesky Eagles, 56-47, Friday on Senior Night at the Free State gym.
Don't expect Schreiner to be sleeping any easier with O-North out of the picture, though. The Firebirds' victory solidified the fourth city showdown of the year against Lawrence High.
"If we'd lost and had to play (North) again, I'd be scared to death," Schreiner said after the Eagles hung with Free State until the final two minutes. "They're a team that I'm real glad we don't have to play again. Of course, now I'm scared to death because we've gotta play Lawrence."
There was not an ounce of sarcasm in Schreiner's voice, either. Sure, the Lions are just 5-15 after losing Friday night to Shawnee Mission West, but the Firebirds (14-6 overall, 9-2 Sunflower League) know all too well how dangerous LHS can be. After Free State rolled to victories in the first two meetings, the Lions stunned FSHS, 77-69, Feb. 7 at LHS.
"We were always kind of hoping to play them again," Free State senior Tyler Blankenship said, "because the last time we left it on a sour note. We want to get the last laugh."
Had Free State lost, however, there would be no Round Four. And boy did the Firebirds cut it close against O-North (5-15, 2-9). Senior Dain Dillingham was held to just four points, and junior Brady Morningstar had a tough time finding open shots, so the Firebirds had to dig deep.
Free State fell behind 8-4 before closing the first quarter on a 9-2 run. North slowed the pace to a near crawl and didn't allow the Firebirds to run and gun like they prefer. The Eagles controlled the tempo, and were within three at halftime.
"They're probably the most patient team we've played all year," junior Sam Buhler said. "They were real patient, and they created a lot of good shots."
Cole Douglas' 12-foot jumper midway through the third quarter put FSHS ahead 37-30, but North rallied and tied the game at 42-all with 7:19 left in the game. Buhler scored Free State's next seven points on a free throw and three aggressive drives to the basket and gave the Firebirds the separation they needed to finally put the game away.
Douglas and Blankenship led FSHS with 12 points each. Morningstar added 11 and Buhler had 10. Travis Dye led the Eagles with a game-high 23 points.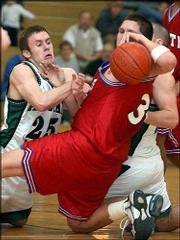 Copyright 2017 The Lawrence Journal-World. All rights reserved. This material may not be published, broadcast, rewritten or redistributed. We strive to uphold our values for every story published.