Surprise, Ariz. — Mike MacDougal set the Kansas City Royals' rookie record for saves.
He's still trying to prove he deserves the closer's job, though, after a disastrous second half to his first season.
As a rookie in 2003, MacDougal was named to the All-Star Game with 24 saves, a 3-3 record and a 2.59 ERA. After the break, MacDougal logged just three saves, went 0-2 and had a 6.85 ERA.
"There was a period of time last year where he got tired," Royals manager Tony Pena said.
MacDougal pitched winter ball in Puerto Rico before the 2003 season -- and was voted the top prospect in his winter league -- but had scant time off before spring training opened. MacDougal did not pitch in winter ball this offseason, which Pena believes will benefit him during the long season.
"I had a chance to relax this offseason," MacDougal said. "I think it is going to help me out a lot. It gave my arm a chance to rest. I feel good. I feel fresh."
MacDougal's fastball can touch 100 mph, and he throws a hard slider.
"I'm working on a change-up, so the hitters don't know exactly what is coming," MacDougal said.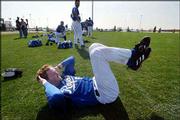 MacDougal also needs to improve his control after 32 walks, eight hit batters and six wild pitches in 64 innings last season.
"Fastball control is obviously my main focus in spring training and this year," MacDougal said. "I want to be able to hit both sides of the plate."
He is not planning to tone down his velocity to gain better fastball command, though.
"I don't ever want to take velocity off because if I do miss, maybe it has enough speed to get by them," MacDougal said. "I'm going to try to hit 100 (mph)."
Copyright 2018 The Associated Press. All rights reserved. This material may not be published, broadcast, rewritten or redistributed. We strive to uphold our values for every story published.