Construction is under way on the first phase of a plan to convert a large area of East Lawrence into an office, apartment and retail district.
Crews with Lawrence-based Harris Construction have gutted a long-vacant, 10,000-square-foot building at 832 Pa. to make way for office development.
Bo Harris, chief executive of the construction firm, said Tuesday that he had found a tenant to lease about 7,500 square feet of the building. He declined to name the tenant.
The building, which had served as a shop for a heating and roofing contractor and was used in its early history as a chicken processing facility, will be renovated to have a historic look, Harris said.
He said the project would be similar to the Kansas Seed House Building, 805 N.H., that his company renovated in the late 1990s, which features exposed walls, old timber beams and wood floors.
"We're finding that people like having a cutting-edge office space in an older building," Harris said.
Harris said the office project, which is expected to be complete by midsummer, was the beginning of what he hoped would be a larger redevelopment of the area.
"We think it will get the ball rolling," he said.
Harris began working in 2002 on an idea to convert much of the area along Pennsylvania Street between Eighth and Ninth streets into office, apartment and eventually retail uses. He also has expressed interest in some property east of Pennsylvania Street.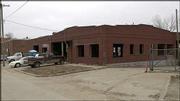 Harris said Tuesday that he was seeking to buy additional property in the area and was working on creating a specific master plan for the project.
"I just feel like it is an under-utilized area with a great neighborhood around it," Harris said.
Ed Tato, president of the East Lawrence Neighborhood Assn., said most of his group's members were looking forward to the project.
"I think there is mostly excitement about it," Tato said. "There may be some apprehension, but not much. The office idea sounds good to us. It is certainly nice to see those buildings saved and hopefully get a steady user."
Tato said neighbors generally were supportive of adding new residential development to the area as well.
"I think our concern is that we make sure there's an element of affordability on that," Tato said. "Bo's working on that I know, but where it goes, I don't know."
Copyright 2018 The Lawrence Journal-World. All rights reserved. This material may not be published, broadcast, rewritten or redistributed. We strive to uphold our values for every story published.