If you're invited to have dinner at the home of Saibal Bhattacharya and Debjani Bhaduri, by all means, accept.
The couple, natives of the Bengali region of India, are extraordinary hosts. They are a model of graciousness; your plate -- and your wine glass -- will never be empty.
But as friendly and polite as they are, the star of any evening in their home is Bhaduri's traditional, Bengali cooking, based upon recipes that have been in her family for generations.
Now there's a way to enjoy the fruits of Bhaduri's skill in the kitchen without having to wait for an invitation to dinner.
Bhaduri, 32, started a business in August called Tripti, House of Homemade Bengali Delicacies.
With the help of Sula Teller, chef and prepared foods director of the Community Mercantile Co-op, 901 Iowa, Bhaduri has arranged to supply the co-op with deliveries of a variety of homemade Bengali specialties.
Her products are sold in the co-op's prepared foods section, in the deli case and on the salad bar.
"I love cooking," said Bhaduri, who is pursuing a master's degree in education at Kansas University. "What I felt here, especially after being to Indian restaurants in America, is that it isn't up to the standard of what we eat (in India). They're just distorting everything," she said.
"This is Punjabi food (in the culinary style of northern India) that they generally serve here -- everything is a mishmash of onions, garlic and ginger."
The couple has found it irksome that the Indian food most Americans are familiar with is typically homogenous, ignoring the fact that the many states and regions of India each offer their own, highly specific cuisines and tastes.
Bhaduri thought she could do better, introducing Lawrence residents to the foods she grew up eating.
"Debjani's point is that she wants to bring in the homemade, traditional Bengali recipes and say to Americans, 'See how you like it,'" her husband said.
Family tradition
Tripti, the name that Bhaduri chose for her business, is a Sanskrit word meaning "satisfaction."
Dishes like her curried tofu or her Bengali samosas (a triangular pastry filled with a spiced vegetable mixture) are spicy, but also mellow and soothing.
Bengali cooking relies upon combinations of spices such as cumin, fennel, fenugreek and radhuni (akin to parsley seeds).
But for all her use of spice, Bhaduri's dishes are not scorching hot, as some Indian food can be.
"For us Bengalis, spice is not heat -- it's the taste. Being spicy means being tasty," said Bhattacharya, who has helped his wife set up her business.
Bhattacharya, 39, is a petroleum engineer who works for the Kansas Geological Survey at KU. The couple has a 23-month-old daughter, Sukanya.
At a recent dinner at the couple's home, Bhaduri produced a banquet of Bengali dishes: a chickpea medley, basmati fried rice, Bengali samosas, gunjiya (savory empanadas), tofu curry, potato-and-green-bean curry, spicy chicken, spicy red beans and mango chutney.
Highlights were the tofu curry, which has a mild taste and silky texture, and the samosas, stuffed with vegetables such as cauliflower, potatoes and peas. The samosas and empanadas were served with Bhaduri's own tamarind chutney, a sweet, sour and tangy dipping sauce.
The food was remarkably light because Bhaduri uses as little oil as possible. Her goal is that it should be healthy as well as tasty.
Everything she produces is made according to her family's recipes.
"It's sort of cultural. I grew up seeing my mother cooking, my grandmother cooking. I have been brought up in a very cosmopolitan area (of India), and I have tried many different kinds of foods," Bhaduri said.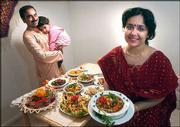 Creative pursuit
Bhaduri's products, prepared by her and delivered by Bhattacharya weekly to the co-op, appear to be a hit with customers hungry for an easy way to enjoy Indian food at home.
"This is the word they use: 'Amazing.' One of our vegetarian customers said, 'That's the most exciting (curried) tofu I've ever had.' A lot of cooks and commercial places where you can get Indian food, spicy is synonymous with hot. Debjani's is just flavorful," Teller said.
The co-op offers Bhaduri's curried tofu, potato-and-green-bean curry, samosas, empanadas, basmati rice with raisins, peas, carrots and spices, and tamarind chutney. Bhaduri prepares her dishes in a state-certified kitchen -- Tripti is technically classified as a catering operation -- and then it is packaged, weighed and priced at the co-op.
"Her food has integrity, and it is beautiful to look at. Not only that, but it has an incredible complexity, with layers of flavors. Tasting it is an amazing experience," Teller said.
"It makes you feel really good after you eat it. The food speaks for itself."
For Bhaduri, who has to juggle the demands of family, school and a new business venture, the time she gets to spend in the kitchen is fun.
"My passion is cooking. It's very creative, and it's relaxing, too. I can keep trying things out on Saibal," she said.
Copyright 2018 The Lawrence Journal-World. All rights reserved. This material may not be published, broadcast, rewritten or redistributed. We strive to uphold our values for every story published.