Manhattan — Now be honest. Did you really expect this script to end any differently?
After the Free State High boys swimming and diving team romped through the regular season with a dominance no one could touch, Saturday's spectacular showing in the state meet made it official: Free State is the class of the state.
After seven long years of oh-so-closes, maybe-next-years and darn-the-bad-lucks, Free State has earned its first state title in any sport since the school opened in 1997.
"It's all about the guys," FSHS coach Annette McDonald said. "It's everything they worked for the whole year."
With 251 team points, the Firebirds outlasted Olathe East (235) and Shawnee Mission East (220) in a Sunflower League-dominated championship at the Kansas State University Natatorium.
Where Free State clinched the team title is uncertain, but where the Firebirds proudly stamped it, called it their own and sent everyone else home was obvious: in the 400 freestyle relay, the meet's last event.
Needing just a smooth effort with no disqualifications, Free State instead shattered a school record, with the quartet of Chris Wolff, Chris Sellon, Anthony Portela and Alex Brunfeldt winning in a time of 3:16.83.
Olathe East -- symbolically, perhaps -- was nearly two seconds back when Brunfeldt, the FSHS anchor, touched the wall that officially made him and his teammates champions.
"It felt so good," Brunfeldt said. "To touch the wall and look up and see the best time and the state title ... it's so nice."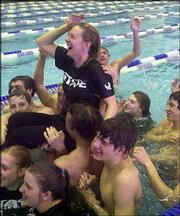 Brunfeldt's memorable conclusion to a fantastic high school career also came with him lowering his state-record 500 freestyle time even farther. He was crowned state champion for the second straight year in the 500, finishing in a time of 4:35.02. In the preliminaries Friday, Brunfeldt set the record in 4:35.34.
Still, the biggest effort out of that race might have come from Sellon. Seeded fifth for the championship race, Sellon finished third in a time of 4:54.46. He leapfrogged in front of fourth-seeded Cameron McKay from Olathe East and picked up some extra points for the Firebirds -- while stealing some from O-East in the process.
Sellon also placed beyond his seed in the 200 individual medley, taking fourth place.
"He was one of the key players," McDonald said. "He felt a lot of pressure, I'm sure, but he dealt with it fine. He knew what he needed to do."
But, really, there were too many heroes for the Firebirds to keep accurate count.
Portela was crowned state champion in the 100 butterfly with a time of 52.67. He also took second in the 100 breaststroke and was a crucial cog on the 400 freestyle and 200 medley relay teams, both of which won championships.
Wolff was on both of those relays, too, and earned 17 team points for the Firebirds with a second-place finish in the 50 freestyle.
Freshman Chase Torgerson was the opening leg of the 200 medley relay and also earned big points with a seventh-place finish as Free State's lone representitive in the 100 backstroke.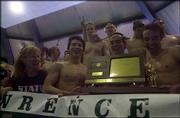 "Even the guys that didn't swim today," Portela said. "We had so many team members that came to cheer us on. It was part of our success."
After Free State took its place on the top step of the podium, the annual rituals of a championship team followed.
There was a lot of hootin' and hollarin', a lot of pictures taken with the first-place plaque, and, of course, coach Annette McDonald was thrown in the pool along will all of her talented swimmer.
"I've never taken a better splash of water," a drenched McDonald said. "Not even when I was competing. This was the best."
When the Firebirds returned to Lawrence -- joined by a police escort once they hit city limits -- they were recognized with a hero's welcome before the boys basketball game Saturday night. That's just the start of things, though.
They surely will be quite popular Monday when school is back in session, with an abundance of high-fives and congratulations coming their way.
It's expected. After seven years of coming up short, a happy ending like Saturday's is enough to make every Firebird stand a little taller.
A state title has that power.
Copyright 2017 The Lawrence Journal-World. All rights reserved. This material may not be published, broadcast, rewritten or redistributed. We strive to uphold our values for every story published.