Topeka — In nearly nine years as Kansas' top disease investigator, Dr. Gianfranco Pezzino devoted a growing amount of time to preparing for possible bioterrorist attacks and dealing with new and strange contagions.
His work as state epidemiologist also cost Pezzino a lot of time with his family, so he recently traded the job for one at the private, nonprofit Kansas Health Foundation. His departure left the state Department of Health and Environment without a medical doctor on its staff.
Gov. Kathleen Sebelius and other officials think it will be difficult to replace Pezzino because they give his work at KDHE high marks.
Pezzino said events during the past decade have made the state epidemiologist's job more demanding.
"There isn't a lot that hasn't been removed from our plate but there is a lot that has been added on top of what we had," he said.
KDHE officials said they are conducting a national search for Pezzino's replacement. When Pezzino resigned this month, he was earning nearly $119,000 a year, but public health officials do not consider that salary competitive.
"I know that the price tag is substantial because these are sought-after positions," Sebelius said.
In recent years, Pezzino has led the state's efforts to control outbreaks of West Nile virus, monkeypox and the cryptosporidium parasite. He and his bureau's staff also have monitored for signs of SARS appearing in Kansas.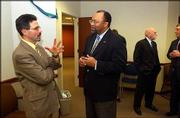 Several years before the 2001 terrorist attacks, Pezzino helped create a communications network to allow the state to share information with local health departments.
"We had, with his direction, built a way to communicate with the public health folks," said Maj. Gen. Gregory Gardner, a former state adjutant general. "That was probably the area where we led the most and that was due in great part to his efforts."
Pezzino and his staff investigated and responded to outbreaks of food-borne illnesses and even head lice in school children in his early years on the job. But those early years also contained hints of what was to come: In 1996, sporadic cases of hantavirus was one of his concerns.
Pezzino said now public officials understand that the work of responding to new diseases "probably will never be done."
"There are no miracle drugs that will just kill all the bugs. Microbes have demonstrated a very good ability to mutate," he said. "Our contact with the wild environment has become more intimate that it used to be."
Dealing with the possibility of bioterrorist attacks led Pezzino into closer contact with law enforcement and emergency management officials. Those concerns created new demands on public health officials, he said.
Those increasing demands help explain why Pezzino took his new job as director of public health studies at the Health Foundation.
"Ten years is a long time in the same job, just about any job. I went back and looked at my schedule and all the school events I missed for my children. Altogether, I was getting really tired."
Copyright 2018 The Associated Press. All rights reserved. This material may not be published, broadcast, rewritten or redistributed. We strive to uphold our values for every story published.