Powwow at Haskell welcomes back students
The drone of voices in unison, jingling dresses and the steady beat of leather-covered drums filled Coffin Complex at Haskell Indian Nations University on Saturday night for the intertribal Welcome Back Powwow.
About 700 people gathered for the event sponsored by Haskell Student Senate, held every semester to commemorate the start of school. This semester's powwow was postponed from Jan. 31 to Saturday because of inclement weather.
A "Grand Entry" involving about 50 dancers, young and old started the evening's events.
"Tonight we're here to be happy," said a voice over the public address system. "Tonight we're here to dance. Be proud of who you are."
Events were to last until about 11 p.m. They included a contest for the best "jingle dress" or shawl for a $100 award, sponsored by emcee Manny King, and a Grass Dance Special, sponsored by Haskell's Student Senate.
Into the streets
Hate-crime victim's mom to speak at KU event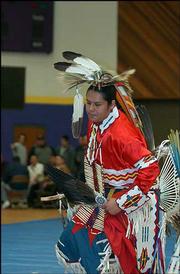 The mother of Matthew Shepard, the 21-year-old Wyoming man killed in a high-profile 1988 hate-crime case, will speak March 1 at Kansas University.
Judy Shepard, executive director of the Matthew Shepard Foundation, will speak at 8 p.m. at the Lied Center. She tours the country to promote tolerance.
The appearance is part of "Into the Streets Week" sponsored by the Center for Community Outreach. The center initially was in negotiations for filmmaker Michael Moore to speak, but his appearance fell through.
The Shepard event will be free and open to the public.
Red Cross
'CPR Saturday' on tap at Free State High
A bunch of dummies will come together in one room next weekend.
The occasion is the American Red Cross' "CPR Saturday," an annual event that provides free adult cardiopulmonary resuscitation training to Douglas County residents. The event is being billed as a kickoff for March, which is National Red Cross Month.
The training will be from 9 a.m. to 1 p.m. Saturday at Free State High School. Registration begins at 8 a.m.
Certified American Red Cross instructors will train people to recognize and provide basic care for breathing and cardiac emergencies until professionals can take over.
More information about the American Red Cross is available by calling Jane Blocher at 843-3550.
Copyright 2018 The Lawrence Journal-World. All rights reserved. This material may not be published, broadcast, rewritten or redistributed. We strive to uphold our values for every story published.