Chicago — Paramedics are testing an experimental blood substitute on severely injured patients without their consent in an unusual study under way or proposed at 20 hospitals around the country.
The study was launched last month in Denver and follows similar research that was halted in 1998, when more than 20 patients died after getting a different experimental blood substitute.
Supporters say the current product, PolyHeme, made by Northfield Laboratories of Evanston, Ill., is safer and could save many of the nearly 100,000 people who die of bleeding injuries each year nationwide.
"It could revolutionize how we take care of resuscitation in the United States and across the world," said lead investigator Dr. Ernest Moore, chief of trauma surgery at Denver Health Medical Center.
The research is part of a race to find what doctors call the holy grail of emergency medicine: a product that works like human blood to save victims of car crashes, shootings or other trauma but could be carried in ambulances and given to people of any blood type.
Patients will be randomly selected to receive PolyHeme intravenously or standard saline solution at the scene or en route to the hospital.
Because severely bleeding trauma patients often are unconscious or in shock, they are unable to give the consent required for experimental treatment. As a result, the researchers in this case are being allowed to bypass the consent rules under a 1996 federal exemption that applies to emergency, potentially lifesaving research.
The exemption requires the research to be publicized beforehand in communities where the study will be conducted, both to let people opt out if they are ever injured and to give the community a chance to express any objections. In effect, the community briefings are used to obtain consent.
The Food and Drug Administration has approved about 15 such no-consent studies since the exemption was added.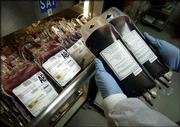 University of Pennsylvania bioethicist Dr. Jason Karlawish said there was nothing unethical about the concept.
Some patients' rights advocates disagreed, especially considering the deaths in the earlier study of emergency room patients given a Baxter Healthcare blood substitute.
The study "is another one along that slippery slope that's essentially demolishing your individual right not to become experimental subjects unless we give prior, voluntary, informed, comprehending consent," said Vera Sharav, president of the New York-based Alliance for Human Research Protection, a group concerned with the safety of the millions of Americans who participate in medical research each year.
Baxter has said there was no proof its product caused the deaths; a spokeswoman said it had abandoned research into a blood substitute.
The centers where the PolyHeme study is under way or proposed include the University of Texas Medical School in Houston; Loyola University Medical Center in Maywood, Ill.; Mayo Clinic in Rochester, Minn.; and Regional Medical Center in Memphis, Tenn. Northfield Laboratories would not disclose the names of the other participating hospitals.
Copyright 2018 The Associated Press. All rights reserved. This material may not be published, broadcast, rewritten or redistributed. We strive to uphold our values for every story published.