A 25-year tradition continued Sunday when Mount Oread Aerie 309, Fraternal Order of Eagles, paid special tributes to a Lawrence Police officer and a firefighter.
During a banquet at the Eagles Lodge, 1803 W. Sixth St., Police Officer Micky Rantz received the Reverence for Law award while Mark Thomas received the Excellence in Fire Prevention and Medical Service award.
The Eagles made their selections based on recommendations from supervisors in the police department and Lawrence-Douglas County Fire & Medical, Eagles member and past President Claud Aubry said. The selections aren't made because of any single incident but because of the recipients' dedication and public service, Aubry said.
For Thomas, this was the second time he won the award, having received it in 1992.
Thomas, who has been with the fire department since 1982, organized a community event last year that raised $12,000 to help fellow firefighter Joe Mehl pay for renovations to his house to make it more handicap-accessible. The renovations were needed because Mehl's son developed muscular dystrophy.
"I just came up with the idea and threw it out there and they ran with it," Thomas said, pointing to several firefighters who were at the banquet along with Chief Jim McSwain.
Mehl, who also was at the banquet, was presented with a $100 check from the Eagles Past Presidents Club to add to his house renovation fund.
Rantz joined the police department in 2001 after working for departments in Fort Scott and Cherokee County. A patrol officer, Rantz said he was honored to receive the award.
"In law enforcement we don't get a lot of positive feedback," he said.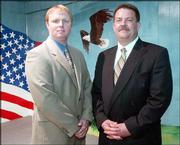 Police Lt. Steve Zarnowiec, the ranking officer at the event, agreed. "These are the people we work for and it's great to be able to spend some time with them," he said of the Eagles.
McSwain commended Aubry for starting the recognition awards in 1979 and presented Aubry with a red and yellow firefighter's helmet.
Also recognized during the banquet was Dana Galliart, who received the Volunteer of the Year award from the Eagles Women's Auxiliary.
Copyright 2018 The Lawrence Journal-World. All rights reserved. This material may not be published, broadcast, rewritten or redistributed. We strive to uphold our values for every story published.