Photographer: Thad Allender
Camera: Nikon D1H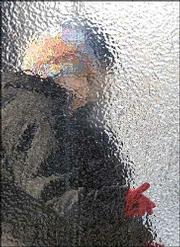 Lens: 165mm
ISO: 200
Aperture: 4.0
Shutter: 1/640
Building what some photographers refer to as a "visual vocabulary" helps to diversify the angles and techniques employed in creating a photograph. Each time I see an image I haven't seen before, I make a mental note and file it away in the hard-drive between my ears.
Last week, as I passed a frozen bus stop near Ninth and Massachusetts streets, I was instantly reminded of a photograph I once shot through a church window. As I approached the scene, I realized that in order for the image to translate well, I needed to render some part of it in sharp focus. I waited for one of the people inside to touch or move closer to the frozen glass stall.
Five minutes later, a woman started writing on the glass, and I began shooting photos, implementing various camera settings in order to expose the scene correctly.
The photograph ran on the front page of the Lawrence & State section the day after an ice storm passed through Lawrence.
Copyright 2018 The Lawrence Journal-World. All rights reserved. This material may not be published, broadcast, rewritten or redistributed. We strive to uphold our values for every story published.