For much of its 120-year history, Haskell Indian Nations University has been one of only a handful of schools that gave Native American students a shot at higher education.
Not anymore. Today, more than 30 tribes have tribal colleges in 12 states.
"It's not peaked yet," said Gerald Gipp, executive director at the American Indian Higher Education Consortium in Alexandria, Va.
The dozens of tribal colleges "include Haskell and Red Crow Community College in Alberta, Canada," said Gipp, who was president of Haskell in the 1980s. "That number could be 40 in the next few years. I wouldn't be surprised."
All but four of the colleges are on reservations. Most offer two-year associate degrees, but eight have four-year, baccalaureate degree programs.
Haskell has four four-year degree programs: business, environmental science, elementary education and American Indian studies.
Others have more. Oglala Lakota College in Kyle, S.D., offers 11 four-year degrees as well as master's degrees in tribal management and school administration.
"Our enrollment is at an all-time high right now; we have 1,500 students," said Billi Hornbeck, registrar at Oglala Lakota College, which is spread across almost a dozen sites on the Pine Ridge Indian Reservation.
Oglala Lakota College is one of the nation's largest tribal colleges.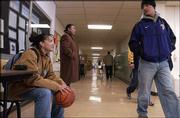 "We're growing. We're very aggressive," said Kim Winkelman, the college's vice president of instruction and academic affairs. "We'll be at 2,000 before too long."
Haskell at capacity
Haskell's enrollment isn't growing. The university's $9 million budget -- all of it from the U.S. Bureau of Indian Affairs -- limits it to about 1,000 students.
"We're at 1,001 right now," Haskell registrar Manny King said last week. "This is where we're comfortable, at around a thousand. If we take many more than that, we get short on textbooks and we run out of dorm space ... things like that."
But the tribal colleges' growth isn't expected to mean fewer students for Haskell, said Lori Tapahonso, spokeswoman for the Haskell president's office.
"Every semester we have a waiting list of some 400 students who couldn't get in," Tapahonso said. "What this means, I think, is that all across Indian Country, people are recognizing the value and the need for higher education."
Much of Haskell's niche in the education marketplace is defined by its being one of only two American Indian colleges -- the other being Southwestern Indian Polytechnic Institute in Albuquerque, N.M. -- that does not charge tuition.
"As long as you are a member of a federally recognized tribe, Haskell is tuition-free," Tapahonso said. "But the other side of that is that we don't get any money from the tribes. We are funded by the BIA, which limits us."
Assimilation barrier
At the American Indian Higher Education Consortium, Gipp said most tribal colleges' beginnings were rooted in leaders' frustrations over seeing their young people fail in off-reservation schools.
"Indian students were getting lost and failing miserably in mainstream schools," Gipp said. "That is an historical fact."
Gipp and others argue that much of that failure is rooted in core values and curricula that denigrated Indians and their cultures.
"Starting in about the fourth grade, if you're Indian, you have to choose between being Indian and being a student," said Marjane Ambler, editor of Tribal College Journal of American Indian Higher Education.
"Choosing to be a student in a non-Indian setting means assimilation," she said. "Your education will be presented in a way that discounts, marginalizes and undervalues who you are; you'll be told your ancestors were barriers to civilization and that they have no intellectual history. You are insignificant."
Tribal colleges reverse that trend.
"The first thing you're going to learn is that you, in fact, have a very rich intellectual history," Ambler said.
She added, "If you go back and look at the histories of all (the) tribal colleges, you'll see that just about every one of them was started by local people who could not stand to keep watching their students come back as failures -- students they knew weren't lacking in intelligence."
'On the rez'
But for some students, the greatest strength of tribal colleges -- proximity to home, family and culture -- can be a drawback.
"When you go to a tribal college, a lot of times you're still on the rez; your mom still cooks for you, your dad looks out for you, you've got your car and your TV," said Reida Whiteshield, a Haskell senior.
"Everything is right there for you," she said. "And that's good, but it makes it harder to stick it out, to make it. It's too easy to say, 'I'm not going to school today, I'm going to stay home today and watch TV."
Whiteshield, 29, earned a two-year degree in medical record keeping at Salish Kootenai College in Pablo, Mont., before enrolling in Haskell's American Indian studies program.
"I really liked it there (Salish Kootenai College)," Whiteshield said. "But almost everybody there was local. Haskell has a lot more diversity."
Cassandra Saldivar, 23, spent two semesters at Little Big Horn College in Crow Agency, Mont., before coming to Haskell.
"I don't have anything bad to say about tribal colleges. They have a lot to offer," Saldivar said. "But for me, I went for a year and I was still at home. I hadn't gone anywhere; I was still on the reservation.
"I'd been to boarding school for high school, so I was ready to be away from home," she said. "I wanted to be more independent, so I came to Haskell."
Copyright 2017 The Lawrence Journal-World. All rights reserved. This material may not be published, broadcast, rewritten or redistributed. We strive to uphold our values for every story published.