New York — Teatime in Manhattan is much more than scones and finger sandwiches. Afternoon tea not only serves as a tonic for weary sightseers, but it also can help provide an experience that might otherwise be missed.
A budget traveler who can't afford a luxury hotel can use the hotel's $30 afternoon tea as a window into that high-class world. A tourist who has spent the day waiting in line at crowded landmarks may relish the chance to sit in a friendly neighborhood cafe. And for those who don't have time for the decorative arts collections at the city's museums, afternoon tea showcases many everyday objects made beautiful -- silver tea strainers, bone-china cups and teapots shaped like castles.
The Plaza Hotel Palm Court
From the harpist in her glittering gown to the waiters' impeccable service, from the gilt-edged marble columns to the crystal chandeliers, from the towering palm trees to the pink azaleas blooming in winter, the setting is magical and opulent.
Films shot here range from "North by Northwest" to "Home Alone II." Inside, take the hall on your left to visit the portrait of Eloise, from the famous children's book, and the restrooms; even the bathroom ceilings are trimmed in gold.
The finger sandwiches are delicate and crustless, with cucumber sliced so thin it offers just a whisper of a crunch. The scones -- dense yet light, sweet with a hint of salt -- go so perfectly with the clotted cream that no jam is needed, but who can resist sampling the tiny jars of orange marmalade and blackberry preserves? Assorted desserts follow -- tarts, cake and cookies. Build up an appetite by walking in Central Park; the zoo is near 64th Street.
Location: Fifth Avenue near 59th Street. Hours: 3:45 p.m.-6 p.m. Monday through Saturday; 4 p.m.-6 p.m. Sunday. Phone: (212) 759-3000. Cost: $29.95; children's tea, $19.95.
Takashimaya's Tea Box
Fifth Avenue between 50th and 59th streets is shopping paradise, from the ritzy Louis Vuitton and Harry Winston to mass-market Disney and H&M.; Takashimaya, an upscale Japanese department store, is part of the mix; the Tea Box, its in-store cafe, offers an "eastwest tea" unlike any other.
Goodies include sugared nuts, sliced fruit, spice cake, butter cookies, candied ginger dipped in chocolate and luscious mocha pudding.
The decor is soothingly minimalist, with stone-colored china, beige fabric billowing from the ceiling and burlap-colored chairs. The muted effect is a perfect backdrop for the explosion of tastes and colors in the meal; the clientele is young, chic and international.
Location: 693 Fifth Ave., near 54th Street. Hours: 3 p.m.-5:45 p.m. Phone: (212) 350-0179. Cost: $18 for "eastwest" tea.
Tea & Sympathy
Tea & Sympathy is a bustling cafe in Greenwich Village, with plastic floral tablecloths and charmingly mismatched china, including teapots shaped like clocks, globes and castles. The sandwiches -- chicken, egg and tuna salad -- are homey, dripping with mayonnaise; the scones are heavenly -- light, doughy and slightly salty -- and the desserts are yummy but not gourmet -- a chocolate cupcake and simple white cake.
The staff, along with some customers, consists of friendly expat Brits. You'll feel like you're having tea in someone's home in England, rather than with the queen -- even though her portrait is on the wall.
Use a strainer if one is provided to avoid leaves in your tea.Ask for caffeine-free tea if you're prone to sleeplessness.The T Salon and Alice's Tea Cup have bargains on tea for two; others charge full price per person.But don't hesitate to have tea by yourself; it's a meal that can be fully enjoyed in solitude.
Afterward, head east and south toward Washington Square Park for the heart of the Village; take in the boutiques, artsy gift shops and colorful street life as you stroll.
Location: 108 Greenwich Ave., between 13th and 14th streets, near Seventh Avenue. Hours: noon until sandwiches run out, around 6:30 p.m. Phone: (212) 807-8329. Cost: $19.95.
Lady Mendl's Tea Salon
at the Inn at Irving Place
Exquisite is the word for both the setting and the menu. The salon is named for Lady Mendl (born Elsie de Woolf), who was credited with originating the field of interior design; she would certainly have approved of its refined decor -- wall sconces, decorative plaster molding, wooden arches with pocket doors, Oriental rugs, lace tablecloths and Lenox china trimmed in gold.
The food is equally divine, from the sugar cubes embellished with tiny pink flowers to delectable sandwiches like goat cheese on seven-grain bread. Other treats include salad, scones, cookies, chocolate-covered strawberries and a delicate cake made from swirled layers of crepes and cream.
Architecture and urban history buffs will love the 19th century Greek Revival and Victorian Gothic townhouses of Gramercy Square. The Inn at Irving Place in one of these restored beauties -- but look carefully for it. This discreet $400-a-night hotel has no canopy or doorman -- just a picture of a tiny teacup on the door.
Location: 56 Irving Place, between 17th and 18th streets. Reservations required for seatings at 3 p.m. or 5 p.m. Wednesday through Friday; at 2 p.m. or 4:30 p.m. Saturday and Sunday. Phone: (212) 533-4466. Cost: $30.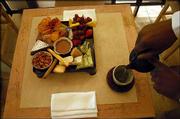 Alice's Tea Cup
Although passages from "Alice in Wonderland" adorn the walls, traditional English tea has a distinct American spin at this unpretentious Upper West Side cafe, complete with hearty ham-and-cheese sandwiches, pumpkin scones and chocolate chip cookies.
The clientele is local and female, from college students to stroller-pushing mommies. Walk your meal off with a trip to the American Museum of Natural History at 81st Street and Central Park West; Lincoln Center at 65th Street and Broadway; or Strawberry Fields, the John Lennon memorial in Central Park between 71st and 74th streets.
Location: 102 W. 73rd St., near Columbus Avenue. Hours: 11:30 a.m.-6 p.m. Monday; 11:30 a.m.-8 p.m. Tuesday through Friday; 10:30 a.m.-8 p.m. weekends. Phone: (212) 799-3006. Cost: $20, $25 or $30 depending on the quantity of food; $8 for scones and a pot of tea.
T Salon
This is the grooviest afternoon tea in New York, a hippie-chic meal with the feel of a college-town cafe, at a price only a gainfully employed grown-up can afford. Here you'll find distressed wood finishes, soft rock music, Eastern objet d'arts and chai as well as Darjeeling.
The sandwiches retain their crusts and one includes alfalfa sprouts; the scones are pre-sliced and taste more like fruit bread than a biscuit. But all are yummy, from the goat cheese-and-arugula on raisin bread to the Earl Grey-flavored chocolate cake.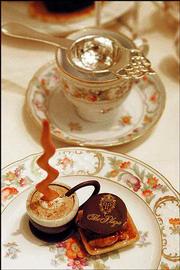 While in the area, check out the trendy home-design stores that line the side streets; visit Madison Square Park and the Flatiron Building, an architectural marvel at Fifth Avenue and 23rd Street; and take in the collection of antique irons in the window of Iron Copy Store at 25. E. 20th St. Next door is trixie+peanut, a store devoted to dog fashion.
Location: 11 E. 20th St. Hours: 11 a.m.-7:30 p.m. Phone: (212) 358-0506. Cost: $35.
Also worth a try
Other teatime spots worth trying are Cafe Kinokuniya, inside the Kinokuniya Books store (10 W. 49th St.), where $10 buys sandwiches, tea and a bag of delightful green tea cookies; and the $20 tea at American Girl Place (609 Fifth Ave.), featuring peanut butter-and-jelly and hot cocoa. Both are in Rockefeller Center.
Copyright 2018 The Associated Press. All rights reserved. This material may not be published, broadcast, rewritten or redistributed. We strive to uphold our values for every story published.