Moscow — At least 21 people were killed and 106 injured when the glass and concrete roof covering a huge, 2-year-old Moscow water park gave way in what the mayor called the city's biggest technical accident.
Initial reports said the roof at Transvaal Park had collapsed Saturday night after an explosion, but officials including Moscow Mayor Yuri Luzhkov later said there was no evidence of a blast.
Investigators were considering numerous theories of what caused the collapse, including a heavy buildup of snow, the stark difference between the indoor and outdoor temperatures, and the seepage of condensate into the concrete structure.
Twenty-one people were killed and 106 injured, the Interfax and ITAR-Tass news agencies reported, citing the Emergency Situations Ministry. Andrei Seltsovsky of the Moscow city health department said three of the dead were children and 19 other children had been hospitalized. A child's birthday party was being held in the pool area when the roof collapsed, said Moscow police spokesman Kirill Mazurin.
The collapse occurred about 7:30 p.m. as visitors basked in the balmy Transvaal Park in Moscow's southwestern suburbs while temperatures outside hovered around 5 degrees Fahrenheit. Altogether, there were about 800 people in the water park complex at the time of the collapse and 352 of them were in the pool area when the roof collapsed, Emergency Situations Ministry Viktor Beltsov said.
Roman Yazymin, 29, was sun-tanning in a solarium on the upper floors of the complex when he heard a loud noise and the crash of shattering glass.
"It wasn't an explosion, but the noise of metal collapsing," he said and noted that as he walked through the complex to retrieve his clothing "everything was in blood."
Rescue workers rushed bloodied, moaning people clad in bikinis and swim trunks on stretchers to waiting ambulances, while those who could clambered out barefoot into the snow. Eight hours after the collapse, rescue workers were still digging through the debris trying to find casualties, and generators were used to pump heat into the area to increase the chances of survival.
Periodically, the rescuers would order a moment of silence to listen for sounds of life, and rescuers brought in sniffer dogs toward dawn, Ekho Moskvy radio reported.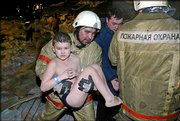 Prosecutors opened a criminal investigation into negligence leading to deaths, said Moscow prosecutor Anatoly Zuyev, who blamed the collapse on faulty construction or maintenance. Ekho Moskvy said investigators had already started questioning workers who had been involved in the water park's construction.
Copyright 2018 The Associated Press. All rights reserved. This material may not be published, broadcast, rewritten or redistributed. We strive to uphold our values for every story published.