Overland Park — Brendan Halpin's and Nolan Kellerman's championship matches summed up Lawrence High's performance Saturday at the Sunflower League wrestling meet at Shawnee Mission West.
Much like LHS wrestlers had done all day, the sophomores had opportunities to put their opponents away, but made mistakes that led to defeat.
"You could kind of say that our matches were indicative of the way we went as a team today," said Kellerman, who lost, 12-9, to Leavenworth's Patrick Keane in the 145-pound finals. "We had some guys that didn't do quite as well as they should have today, and I'm the first of those guys."
Untimely errors and an inability to finish off opponents cost Lawrence a shot at second place.
Halpin nearly pinned Shawnee Mission Northwest's Chaz Hill in the second period. Instead Hill, who has only one loss this season, pinned Halpin in overtime.
While Kellerman's largest lead against Keane was one point, he miscalculated in the third period as Keane took a 10-7 advantage.
"I don't think even if we had capitalized on all our opportunities that we would have caught Leavenworth," said LHS coach Mark Dulgarian, whose squad finished second at last season's league meet.
The Pioneers ran away with the championship with 187 points, while Olathe South finished second with 161.5. The Lions barely held off Shawnee Mission North for third, scoring just a half point more with 144.5.
Free State, the defending Sunflower League champion, took seventh at 113.5.
"We kept telling our guys all week that we were going to defend our championship," Firebirds coach Darrell Andrew said. "But realistically, we knew that we probably wouldn't have a chance to do that. Still, I thought that we wrestled great today, and had a couple of kids that really stood out."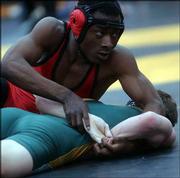 None more so than sophomore Jesse Hardy, who stormed through the 189-pound bracket.
Hardy, who wrestled junior varsity for Free State last season, made quite an impression in his first league meet. He pinned his first opponent in 5:36, but his next two falls took a combined 4:25.
"It went pretty good today," Hardy said. "I was kind of tentative in my first match, but I definitely became more aggressive as the matches went on."
Lawrence High junior Pharouk Hussein joined Hardy as the only other city champion, defeating Olathe North's Scott Markey, 6-4, at 130.
"I was getting pretty nervous at the end there," said Hussein, who had built a six-point lead early in the third period. "I made a few mistakes and it almost cost me."
Free State's Mike Goble took second at 119. The sophomore was pinned by Leavenworth's Chris Lucynski in 2:55.
Lawrence High's Chris Coons (103-pounds) and Clayton Kellerman (215) each finished third, while Free State's Marc Somers went 3-1 at 119 to take third.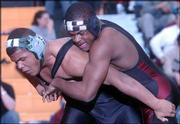 David Sites, Mark Albers, and Cameron Reschke each placed fourth. Sites, of LHS, went 2-2 at 119, while Albers finished 2-2 for Free State at 135 and Reschke 2-2 for Free State at 160.
Dulgarian said his squad's miscues could be corrected by next weekend's regional tournament at Leavenworth.
"We're just going to go as hard as we can physically this week," Dulgarian said. "Those things could make the difference between a kid qualifying for state or not."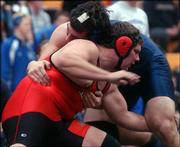 Copyright 2018 The Lawrence Journal-World. All rights reserved. This material may not be published, broadcast, rewritten or redistributed. We strive to uphold our values for every story published.