In the final home game of their college basketball careers, the seniors of Haskell Indian Nations University would have liked a better swan song than being swept by Newman.
Both Jet squads were lighting it up beyond the arc Saturday at Coffin Complex, combining to make 25 of 44 three-point shots.
With four ties and four lead changes in the first half, it appeared the women's contest would be a shootout, but Newman pulled away from Haskell for a 70-57 win.
Newman's Melissa Crowell hit six of seven three-pointers for 20 points. Sarah Rowe added 14 points for the Jets, and Chelsea Stancoff had 12.
"They just had a little more firepower," HINU coach Phil Homeratha said of the defending Midlands Collegiate Athletic Conference champions. "There's nothing wrong with our effort. We had that. The difference was experience."
It was the final home game for HINU seniors Mellissa Catron and Ruby Beatty. Catron led the Indians with 19 points.
"I wanted to cry," Catron said. "I really did, but I have two more games."
Newman men 108, Haskell 75
The Jets opened with a 10-0 run and flew away from there. Kevin Blick hit seven of nine three-pointers and finished with a team-high 23 points. Justin McCreevy was right behind Blick with 20 points.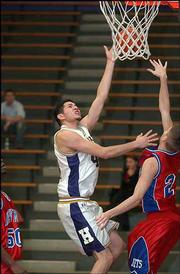 "Everything we tried, they had an answer today," Haskell coach Jamie Morrison said. "Slow starts have been our problem all year."
Andy Deal led Haskell with 19 points. Juniors Corey Ladson and Marcus Oliveira each chipped in 11 points.
HINU's seniors -- Deal, Mike King and Danny Polk -- were honored at halftime.
"I left it all out on the court for Haskell," King said. "I enjoyed every minute of it."
The Haskell men will play Tuesday at Baker. Both the men and the women will be in action Friday at Oklahoma Wesleyan.
Copyright 2018 The Lawrence Journal-World. All rights reserved. This material may not be published, broadcast, rewritten or redistributed. We strive to uphold our values for every story published.