San Diego — His life in constant turmoil off the course, John Daly's golf game hasn't looked this good since he was holding a claret jug at St. Andrews eight years ago.
Daly ripped a big drive that set up a 30-foot eagle on the final hole Saturday for a 4-under 68, giving him a one-stroke lead over Stewart Cink in the Buick Invitational and his best chance at winning on the PGA Tour since he captured his second major at the 1995 British Open.
He was anything but the "Wild Thing" at Torrey Pines.
Daly has made only one bogey in his two rounds on the South course, site of the 2008 U.S. Open, and his short game kept him close to Cink until his length took over on the par-5 18th.
Daly was at 13-under 203, the first time he has had a 54-hole lead on the PGA Tour in 10 years.
Cink had a 71 and was one stroke behind, while Dennis Paulson made good use of his sponsor's exemption with a 67 that left him at 11-under 205.
Paulson, who lives 10 miles away, normally would be the hometown favorite today, but he knows better.
Daly has been one of the most popular draws in golf ever since he crashed the scene in 1991 by winning the PGA Championship as the ninth alternate.
"To see him hit the fairway and hit an iron to the green, it was kind of spine-tingling, even for me," Cink said.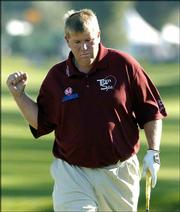 The fans love Daly's grip-it-and-rip-it style, and they relate to a common man with everyday struggles, including two divorces and two trips to alcohol rehab. The latest setback came a week after his son was born, when Daly's wife and her parents were indicted on federal drug and gambling charges.
That's about the time his game, which has seen so many peaks and valleys in his career, started turning around. He won the Korean Open last fall, along with the unofficial Callaway Invitational at Pebble Beach. Daly has made three straight cuts for the first time since 2002, only now he has his eyes on a bigger prize.
There are still plenty of players within range, although Tiger Woods won't be one of them.
The defending champion was all over the South course again -- in the bunkers, trees, anywhere but the short grass -- hitting only five fairways on his way to a 72. That left him eight shots out of the lead, and put in jeopardy his streak of finishing no worse than fifth every time he plays the Buick Invitational.
Copyright 2018 The Associated Press. All rights reserved. This material may not be published, broadcast, rewritten or redistributed. We strive to uphold our values for every story published.