Abraham Lincoln's legacy survives in Kansas in strange and wonderful ways.
For example, some of the Great Emancipator's letters can be found on the wall of a Salina pizzeria owned by the descendants of the young girl who persuaded Lincoln to grow a beard. In adulthood, the girl moved to Kansas and married a banker.
And the tiny town of Lincoln, which is the county seat of Lincoln County, this weekend will attract hundreds of people fascinated by Lincoln and the lore surrounding him.
Among those who will attend the 14th Annual Lincoln Day festivities and drive miles to do it is Bud Green, 78, of Versailles, Mo.
Green is a Lincoln look-alike who became fascinated by the president about a decade ago and now owns 150 books about Lincoln and his life.
Friday and Saturday, Green and at least 400 Abraham Lincoln fans and presenters are expected in Lincoln, which has a population of 1,300 and is 40 miles northwest of Salina on Kansas Highway 14.
"This little event has grown over the years," said Marilyn Helmer, the event's chairman, "and there are probably 50 or 60 Lincoln County residents who are involved."
Look-alikes
Lincoln Day in Lincoln includes a Lincoln look-alike contest, which Green won in 1994.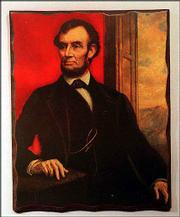 This year, he's already been to the Total Look hair stylist to have his white hair and beard dyed black. But though he'll go to Lincoln dressed as Lincoln, he said he was not sure he'd enter the contest this year.
But he will make a side trip from Lincoln to see a fellow Lincoln aficionado.
"I want to go to Salina to see my friend Duane Billings, the great-grandson of Grace Bedell," Green said.
In 1860, when Grace Bedell was 11 years old and living in Westfield, N.Y., she wrote a letter to presidential candidate Lincoln encouraging him to grow a beard, which Lincoln did.
Bedell later moved to Delphos and married banker George Billings. She died there in 1938.
"Grace had a big old fern plant in her husband's bank that her great-grandson Duane still has, and we have a cutting from it that's growing in our house in Versailles," Green said proudly.
Duane Billings also runs a pizza and sandwich shop in Salina called The Scheme. Copies of his great-grandmother's correspondence with Abraham Lincoln are displayed on his restaurant's walls.
Gettysburg Address
Green has developed his own theory about how Lincoln wrote the Gettysburg address. He doesn't believe the conventional wisdom about the speech's genesis.
"Do you believe Lincoln wrote the Gettysburg Address on the back of an envelope?" asked Green, a charter member of the Lincoln Presenters.
Green said Lincoln was too careful a politician to have written a speech such as that on the fly.
He said Lincoln once traveled by train to Kansas to test out a speech he was to later give in New York.
"No man so given to diligence having traveled across Iowa to try out a speech in front of slavery advocates in Atchison, Leavenworth and Troy, Kansas, would wait until the last minute to jot down his thoughts on an envelope for such an important occasion," Green insisted.
Those Kansas speeches became Lincoln's famous 1860 Cooper Union Address, the debut speech of his presidential candidacy.
Green said he was convinced the Gettysburg Address we know today was carefully thought out before it was given, but only committed to paper two days after the event when Lincoln sat down with his secretaries John Hay and John Nicolay, then re-constructed his speech from notes or memory.
"He was asked for a copy for a Gettysburg memorial publication," Green said.
Remembering Lincoln
On Friday evening in Lincoln, after a day's offerings of exhibits and a lecture, Mary Todd Lincoln will receive guests at the "White House."
Actually the "White House" will be Lincoln's Woody House Bed and Breakfast. Mrs. Lincoln will be Bev Nelson, 58, a professional storyteller and a native of the nearby town of Denmark.
"When I was 10, I found 'Lincoln's Mary and the Babies' by Bernie Babcock on my family's bookshelf and was so attracted to reading the book that I neglected my little chores like gathering eggs," Nelson recalled.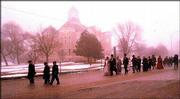 After Saturday's noontime community meal of buffalo stew, Nelson, hoop-skirted and wearing black, will portray Mary Todd Lincoln in the United Methodist Church sanctuary.
She said the audience would be split between "people who knew me in high school and others who could barely find Lincoln, Kansas."
Nelson has been trying to bring Lincoln's widow to life since 1992.
"I cannot imagine a grief greater than burying a child and your husband and to know that your brothers and sisters are happy he's dead," she said sadly.
Mary Lincoln died 17 years after her husband and had lost three of her four children.
"I don't have anything in my experience to build on, but when we close I want the audience to be as bereft as I am and I know I've done a job when I see the men wipe tears from their eyes."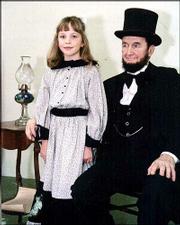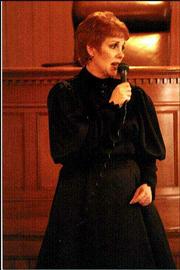 Lincoln, population 1,300, is about 48 miles northwest of Salina. To get there, take Interstate 70/U.S. Highway 40 west to exit 95B and go north about 14 miles on Kansas Highway 14.Friday¢ 10:30 a.m.-4:30 p.m. Videos of past Lincoln Days, and "KC to Kanarado," a video about I-70 that includes 2002 Lincoln Day. Village Lines, 139 W. Lincoln Ave.¢ Noon-5 p.m. WWII Displays: "Produce for Victory" a Smithsonian traveling poster exhibit, Lincoln Arts Center, 126 E. Lincoln Ave.¢ Scouting Involvement in WWII, Post Rock Scouting Museum, 161 E. Lincoln Ave.¢ Uniforms of WWII; Lincoln Museum; 216 W. Lincoln Ave.¢ Storefront Displays, Lincoln Avenue¢ 1:30 p.m. "Victory Garden" by author Lee Kochenderfer; Finch Theatre, 122 E. Lincoln Ave.¢ 7 p.m.-8:30 p.m. Mary Todd Lincoln receiving guests; Bev Nelson; Woody House B&B;Saturday¢ 9 a.m. Ticket sales begin; adults $8 all day, children 8 and under $4Half-days $4 and $2¢ Noon Buffalo feed, adults $5, children 8 and under $2.50¢ 9 a.m. Quill handwriting display and demonstrations, Lucy Smith, courthouse lawn¢ 10 a.m. Stagecoach rides; check in at courthouse¢ 11:05 a.m. "Lincoln the Railroad Lawyer," county courthouse¢ Noon: Look-A-Like Ceremony, county courthouse¢ 12:20 p.m. Freedom March, Lincoln Ave. to United Methodist Church¢ Noon -1:15 p.m. Buffalo stew meal, United Methodist Church¢ 1:15 p.m. The Free Staters, 1860s string band, United Methodist Church¢ 1:40 p.m. Mary Todd Lincoln, "Kansas Soldiers Outside My Door and Other Civil War Stories," United Methodist Church sanctuary¢ 2:15 p.m. "Life and Times of Buffalo Soldier Sgt. Brent Woods," Barrie Tompkins and Angela Bates; Lincoln Grade School.¢ 3:15 p.m. Mrs. Kansas Vocal Performance; Debi Moore; Lincoln Grade School¢ 3:30 p.m. "El Grupo Folklorico de Lincoln": Lincoln Grade School grades 1-6¢ 4 p.m. President's Ball: Lincoln Grade School¢ 6:30 p.m. Farewell
Copyright 2018 The Lawrence Journal-World. All rights reserved. This material may not be published, broadcast, rewritten or redistributed. We strive to uphold our values for every story published.