Most women know they need regular pap smears to detect cervical cancer, and they get reminders in the mail for their annual mammogram.
But 70 percent of women don't even know their cholesterol levels, an American Heart Association survey has found. Only 13 percent said they consider heart disease the greatest threat to their health.
That could kill them.
Go Red for Women, the national heart organization's new campaign to sound the alarm about heart disease, is urging women to recognize cardiovascular disease as the No. 1 killer of all Americans -- not just men. The campaign is calling on women to learn their own personal risk factors so they can take action to stay healthy.
"We are telling women: You must know your individual risk," said Dr. Nanette K. Wenger, a professor of cardiology who specializes in coronary heart disease in women. "Know your numbers. Know your cholesterol. Know your blood pressure. Know what your weight should be. These are the factors that can save your life."
Her strongly worded advice came as the American Heart Assn. announced new guidelines for preventing heart disease and stroke in women at a news conference Wednesday in Manhattan that offered a heart-healthy breakfast consistent with the message: fresh fruit, petite whole wheat rolls and bran muffins. Hot coffee was served with reduced-fat milk, no cream, thank you.
The new guidelines, developed after a review of data, are evidence-based and tailored to match different levels of risk: Someone with a high risk of heart disease can expect more aggressive preventive treatment than individuals with a low risk.
Women can figure out their risk by tallying points according to risk factors. High blood pressure, total cholesterol, smoking and aging increase the point total, while high good HDL cholesterol can subtract a few points. The more points, the greater the 10-year risk of heart attack.
"We don't want this to be a one-size-fits-all approach," said Dr. Lori Mosca, director of Columbia Weill Cornell Preventive Cardiology program of New York-Presbyterian Hospital.
Aspirin, for example, is strongly recommended for most women at high risk for heart attack but not for those at low risk; for them, the potential risk of side effects may outweigh the benefits, Mosca said.
All women are encouraged to quit smoking, exercise, eat a heart-healthy diet, keep their weight down and treat specific cardiovascular risk factors.
The new recommendations grew out of a review of more than 7,000 published medical articles. "We wanted to distinguish between what we know, what we don't know and what we think," Mosca said.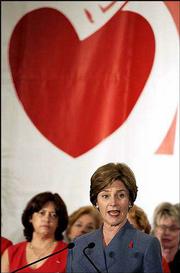 Copyright 2018 The Lawrence Journal-World. All rights reserved. This material may not be published, broadcast, rewritten or redistributed. We strive to uphold our values for every story published.