Lois Brubaker's homemade apple pie is everything that a good pie ought to be. The crust is golden brown and flaky, the filling of sliced Granny Smith apples and spices is tart and sweet.
It's anything but a store-bought pie; you can taste the time and care that the baker put into it.
"I've had this recipe for 30 years. I guess (using) Granny Smith apples is the main thing. They hold their shape better. When you have to cook a pie for 45 minutes, the other types of apples get kind of mushy," Brubaker says.
"People say the crust is the most tender they've ever tasted. The secret is I use a little bit of vinegar and a whole egg. The vinegar makes it flaky and more tender."
Two of Brubaker's pies, along with hundreds of other homemade pies, will be the main attraction at the seventh annual Pie Sale and Quilt Show, the major fund-raiser for the Lawrence-based Interfaith Caring Neighbors (ICAN).
This year's event is from 10 a.m. to 2 p.m. Saturday at Plymouth Congregational Church, 925 Vt. All proceeds will go to the operation of ICAN, a nonprofit, volunteer program that provides grocery shoppers, friendly visitors and handy people to Lawrence and Eudora elders so they can remain independent in their own homes. ICAN's services are provided free of charge to residents age 60 and older by ICAN volunteers throughout the community.
Each of the past two years, supporters of ICAN have baked and contributed more than 200 pies for the event. The Pie Sale and Quilt Show typically raises about $3,000.
The event will feature pretty much any kind of pie you could think of: gooseberry, strawberry rhubarb, pumpkin, apple, coconut cream and custard.
"We have some outstanding pie bakers in this community. A lady brought in a custard pie last year, and before she could even get it labeled and on the table for sale, I had already purchased it from her and stashed it away for myself," says Sherry Warren, ICAN's director.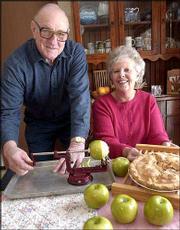 Popular pies
It's a sure thing that there will be several of Aliene Bieber's pies at the ICAN event. Every year, she bakes three or four to take to the fund-raiser.
"This year, I'm going to make a pecan, an apple and a buttermilk coconut, which is a wonderful pie. Several people who ate it there (at the pie sale) wanted the recipe, and I've given it to a lot of people. I thought I would do that one again because it goes over so well," Bieber says.
Baking is second nature to her.
"I could almost make a pie with my eyes closed. I was 8 years old when I made my first pie, and I've just been making them ever since."
It's difficult for Bieber to name her favorite kind of pie to bake and enjoy. She likes pies of all varieties: raspberry, pumpkin, apple, pecan, raisin, coconut cream and lemon.
Bieber's pies always sell out at the ICAN fund-raiser.
"I have not seen 'em down there for very long. My pies always look nice. I'm not saying that bragging, I'm just saying they do. I've had flops just like everybody, but I wouldn't take one to a place like that. We'd eat it ourselves," she says.
Like many people in Lawrence who bake for the event, Bieber got involved through her congregation. She belongs to Trinity Lutheran Church, 1245 N.H., which is one of 15 member congregations that help support ICAN.
"I've done it because it helps ICAN, and they encourage us at church. They have all the churches get as many people as they can to sign up to do pies," Bieber says.
"I take my pies, and I usually eat a piece of pie while I'm there and have a cup of coffee."
Rewarding experience
Several of those baking pies for the fund-raiser also are ICAN volunteers, like Marg Hadl.
"I've been grocery shopping for people for probably seven or eight years. That's the service I provide. I've had the same clients for four years, almost five now. I just do it because there's a need," Hadl says.
She has been bringing her homemade pies to the ICAN fund-raiser for several years. Her specialty is deep-dish apple pie, though she also has brought mincemeat pies.
"It's very good, but my husband didn't like it, so I didn't make it for him. It has raisins and nuts in it. It's just has kind of a tangy flavor to it, a little zing," Hadl says.
Brubaker and her husband, Lyle, have been ICAN volunteers for the past five years.
"We run errands for elderly people, go shopping for them. We take them to doctors appointments, most any kinds of errands they need done," Lois says.
"We do it because there's just such a need for elderly people to have a little bit of help so they can stay in their homes. Otherwise they'd probably be in nursing homes. It's very rewarding; they're so appreciative of anything that we do for them. We're just glad to help."
The Brubakers, married 48 years, form a team in the kitchen. When they get ready to bake an apple pie for the ICAN fund-raiser, Lyle's job is to peel the apples. Lois does the baking.
"I pretty much taught myself. After I got married, I was bound and determined to learn how to bake and cook. I just kept trying and trying until I learned," she says.
Lois has a tip for other pie bakers.
"Just be sure and have your shortening cold. It just makes a more tender pie crust, and it's easier to work with. I even put the flour in the refrigerator before I make it. Everything turns out more flaky and tender. The colder it is, the better," she says.
Copyright 2018 The Lawrence Journal-World. All rights reserved. This material may not be published, broadcast, rewritten or redistributed. We strive to uphold our values for every story published.