With Haiti facing its worst crisis in more than 130 years, Bryant Freeman said he was unhappy that one of his former Kansas University students was going back.
But he says the 1998 Topeka High graduate is old enough to make her own decisions.
"The situation is very volatile -- quite dangerous," said Freeman, the director of the KU Institute of Haitian Studies.
Katie Griggs left Wednesday for Florida, the first day of her journey back to Haiti, where she coordinates visits for volunteers at an Episcopalian-run hospital.
"Everyone will say, 'Are you scared, are you scared?'" the 24-year-old Griggs said. "I've found where I like to live."
A three-week rebellion forced Haiti's president to flee the country in February. Floods and mudslides killed thousands this year. There's banditry and political violence across much of the country, with no organized government. It's mass chaos, Freeman said.
But Griggs said there was much she loved about the poorest country in the Western Hemisphere, citing her friends at the hospital, the mountains and the ocean.
"It's just an indescribable feeling," she said. "There's something there that isn't here. Within society, within the people and the landscape and the air."
Griggs left her studies at Kansas University to work as the volunteer program coordinator at Hopital Sainte Croix. She studied political science and Haitian studies at KU and has a semester or two left to graduate.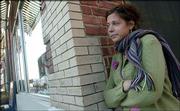 She's been working at the hospital nine months now and has two years left. She came back to Kansas this month to visit.
When Griggs tells people she's going to Haiti, they say, "'Oh, Tahiti, it's beautiful there,'" she said. "'I'm like, 'No, to Haiti.'"
Griggs lives and works in Leogane, a city about 20 miles from the capital, Port au Prince. About 20,000 people live there and in the surrounding area. Her area has been quieter than many others because 100 U.N. peacekeepers are stationed in Leogane.
The hospital is run by the Episcopal Diocese of Haiti, with much of its funding coming from a foundation associated with the Presbyterian Church U.S.A. It has 23 doctors and 120 beds.
She coordinates visits for volunteers, including groups of U.S. doctors and nurses who come to treat people in the nearby mountains.
Griggs speaks fluent Haitian Creole and lives in an apartment on the hospital grounds.
Her senior year of high school she participated in a 10-day medical care trip to Haiti and became fascinated with the place.
She chose KU because it was a university that had a Haitian studies program and in-state tuition. She took four semesters of Haitian Creole language courses at KU. She's visited Haiti about 12 times.
Life in the United States with its warm showers, electricity, paved roads and university professors who know they'll get paid is a privilege, she said.
"I realized there's something that exists outside of me," she said of how her trips to Haiti have changed her. "I removed my blinders."
While Freeman sees Haiti's problems, he also said he loved Haiti's music, food and friendly people.
"Kansans are friendly and warm, but Haitians are even more so," he said. "They have enormous respect for foreigners. They think white Americans are honest, good people because the only ones they ever see are diplomats, professors and missionaries."
Griggs said she didn't know what she'd do after she finished her stint at the hospital. She might do research while she's in Haiti the next two years to gain KU credits.
"It just creates a special place in your heart," she said of Haiti. "It's the best times and the worst times of my life."
Copyright 2018 The Lawrence Journal-World. All rights reserved. This material may not be published, broadcast, rewritten or redistributed. We strive to uphold our values for every story published.