Bill Hecht has worked Christmas Day about every other year for the past 27 years.
It's part of his job as an emergency room nurse at Lawrence Memorial Hospital.
"It has always been difficult working holidays," said Hecht, who has worked at LMH for more than three years. "You miss out on time with family and friends and what you see as a pretty important time. But you learn to accept it. Taking care of people who are sick ends up taking precedence over hanging out with mom and dad and with your grandparents."
Most people who work at a hospital know they eventually will work a holiday, he said. People do their job and make the best of the situation.
It's unknown how many people work on Christmas. The U.S. Department of Labor doesn't keep figures on it. But every year, some people labor while others are spending time with their families.
Typically, health care providers at hospitals and nursing homes work Dec. 25. The same goes for law enforcement officers and firefighters.
But there are others on the job, too. Plumbers and tow truck drivers, for example, will at least be on call.
Jeff Jacob, owner of Bulldog Tow, said he has worked Dec. 25 for years. He's owned his towing business for a year and half, but before that, he worked security for 11 years.
His family plans around his work schedule, but with any luck, Jacob said, it won't be very busy today.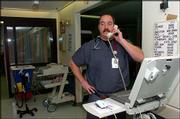 "We mainly do a lot of motorist assists of accidents," he said. "But I'm pretty used to it now."
Howard Kastl, general manger of Kastl Plumbing, said his business always has people on call Christmas Day.
People usually have guests at their home and, somehow, something will happen that inevitably requires a plumber.
"Our hope is our people don't get sent out for something that can wait -- like a drippy faucet," Kastl said. "But, you know, things happen. And for whatever reason, Aunt June might decide to put four heads of lettuce down the garbage disposal. It just happens and there's nothing you can do about it."
Kastl remembered one Christmas when he went on a call when a woman's toilet malfunctioned and all the water drained out the tank and into the water system. The woman, however, had a special bowl cleaner that turned the water blue.
"When she answered the door, her skin was kind of blue and so was her hair," Kastl said. "I had to start laughing. I tried not to do it, but I couldn't help it."
Kastl said they do try to rotate the workers they have on call so their plumbers won't face being called out every Christmas.
"We want our people to be with their family as much as anyone else," he said.
Hecht said the schedules at the hospital also rotate so staffers won't have to work every Christmas. Things have to be fair, he said.
He will work the day shift, which he finds easier than a night shift.
"You're usually tired and ready to go to bed and the rest of your family is just starting their day," he said.
During the day, Hecht said, emergency room workers will get somewhat festive by wearing Santa Claus hats and bells on shoes.
"We don't want to get too crazy," he said. "People coming in aren't feeling well. But we'll play Christmas music and sometimes we give gifts to each other."
Copyright 2018 The Lawrence Journal-World. All rights reserved. This material may not be published, broadcast, rewritten or redistributed. We strive to uphold our values for every story published.