There is no official starting date to the holiday shopping season. But Lawrence resident Mark Riordan was acutely aware Friday evening that the Christmas shopping season would end for him when Best Buy, 2020 W. 31st St., closed at 5 p.m.
"I had my wisdom teeth taken out last Wednesday," he said. "So I hadn't been able to get to this yet."
With just 20 minutes to go before closing time, Riordan scoured the shelves of the store for DVDs to fit the tastes of each person on his shopping list: a younger brother, two older brothers, a grandparent and two parents.
"I figured I could get everything taken care of here," he said.
Riordan was just one of hundreds of Lawrence residents who braved bitter cold temperatures and crowds Friday to finish their Christmas shopping. At the chain stores along South Iowa Street, cars continued to stream into parking lots with only an hour left before many stores closed at 6 p.m.
At Target, 3201 Iowa, Lawrence resident Lauren Campbell pondered two packs of Barbie dolls, which came with Barbie's friend "Kayla" included.
But just which pack would suit her 6-year-old stepdaughter: the one with Barbie in a turquoise blouse and navy blazer, or the one with Barbie in a pink blouse and gray skirt with leggings and boots?
"Pink Barbie," Campbell said. "With a 6-year-old, pink is a big deal."
Several shops and restaurants along Massachusetts Street were closed Friday afternoon, but dozens of shoppers hustled up and down the sidewalks looking for last-minute gifts at clothing and shoe stores.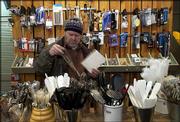 At Weaver's Department store, 901 Mass., sales clerks Holly Jackson and Whitney Western said most of the customers who had come into the women's department were looking for stocking stuffers: scarves, gloves and other accessories.
But, predictably, they had seen a steady stream of husbands and boyfriends who had procrastinated, and were desperate to find a gift for their significant others.
"I call Christmas Eve 'guy-day,'" Jackson said. "We get so many men who come in here looking for gifts for their wives at the last minute."
"And they all look a little bit panicky when they come in," Western added.
Copyright 2018 The Lawrence Journal-World. All rights reserved. This material may not be published, broadcast, rewritten or redistributed. We strive to uphold our values for every story published.