Minneapolis — Facing a seven-point deficit midway through the fourth quarter after one of his familiar, costly mistakes, Brett Favre brought Green Bay back again.
For a Packers team that lost four of its first five games this season, this probably didn't seem like all that much trouble.
Favre guided a 76-yard drive to set up Ryan Longwell's game-ending 29-yard field goal, lifting the Packers to a 34-31 victory over the Minnesota Vikings on Friday -- and clinching a third straight NFC North crown.
"Never give up. That's been this team's M.O. all season," Favre said, "because we could've quit a long time ago."
The Packers (9-6) trailed 31-24 with 8:18 left after Favre's third-down throw from his end zone was intercepted by Chris Claiborne and returned 15 yards for a touchdown.
The Vikings (8-7), though, couldn't get what they needed from a pass defense that has struggled all season. Donald Driver -- who had 11 receptions for 162 yards -- made a nifty, falling-down catch of Favre's pass on fourth-and-goal at the 3 to tie it at 31 with 3:34 remaining after an 80-yard drive.
"We needed one more play somewhere, and we just didn't do it," center Matt Birk said. "It's a disappointing loss, but there is a tomorrow and we're still very much in the hunt."
Minnesota, which can clinch a wild-card playoff spot with a loss by either Carolina or St. Louis this weekend, appeared on its way to retaking the lead. But a holding penalty on Birk -- the Vikings were flagged nine times for 78 yards -- wiped out a 16-yard run by Michael Bennett that would have given them the ball at the Green Bay 40 just before the 2-minute warning.
"When we watch film, we're going to kick ourselves," said Daunte Culpepper, who went 16-for-23 for 285 yards, no turnovers and three touchdowns -- on three consecutive passes in a wild second quarter in which 38 points were scored.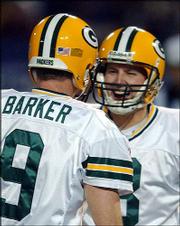 After a punt, Favre got the ball at his 13 with 1:35 left. Twelve plays later, Longwell's kick sailed through the uprights -- sending the Packers into celebration on their biggest rival's home field.
"We're always confident," Driver said. "We knew we could score."
Favre finished 30-for-43 for 365 yards, three touchdowns and the interception. Ahman Green, who left briefly with a head injury, carried 19 times for 64 yards and a score.
Nate Burleson, who had a career day against the Packers last month, caught two passes for 110 yards and a score. Randy Moss had a touchdown among his two catches and 30 yards, and Michael Bennett finished with 159 total yards on 20 touches.
The Packers' secondary has had problems all season, and tackling was a major first-half deficiency.
Burleson caught a short pass over the middle on third-and-5, shed Darren Sharper and raced 42 yards to the Green Bay 26. Later on that drive, Moss caught a 12-yard scoring pass from Culpepper when Al Harris slipped and couldn't stay with him near the edge of the end zone.
After Green bulled in for a tying touchdown on fourth-and-goal at the 1, Burleson escaped from Ahmad Carroll's arms near midfield following a catch and sprinted for a 68-yard score to make it 14-7.
That's when the game really got crazy.
After using their final timeout of the half -- Green Bay coach Mike Sherman went 0-for-2 on challenges -- the Packers tied it again when Favre found a wide-open Bubba Franks for a 22-yard touchdown with 1:23 left.
"As ugly as that game was," Green Bay guard Mike Wahle said, "you're going to remember how we finished."
Copyright 2018 The Associated Press. All rights reserved. This material may not be published, broadcast, rewritten or redistributed. We strive to uphold our values for every story published.