Topeka — \When wildlife officials on the south Texas coast counted the world's only surviving migratory flock of whooping cranes last month, they were pleased to report that at least 213 of North America's tallest bird had survived the flock's annual winter migration from Canada.
There likely would have been 215 to count had hunters in Kansas not killed two of the endangered birds as they winged their way south to the Aransas National Wildlife Refuge.
"It's just heartbreaking that we can't share this earth better," said Susan Iversen, conservation chair of Lawrence's Jayhawk Audubon Society.
The hunters said they mistook the rare birds for sandhill cranes, which are more plentiful and for which there is a legal hunting season.
But Iversen and others say the killings prove it is time to abolish sandhill crane hunting in Kansas. The sandhills, she said, mingle with whooping cranes.
"As long as there is a crane hunting season in Kansas more whooping cranes will eventually be killed," she said.
State and federal officials seem to be heeding the outcry. The Kansas Wildlife and Parks Commission will hold a hearing Jan. 20 in Topeka to hear recommendations from the public about sandhill crane hunting.
And the U.S. Fish and Wildlife Service also is reviewing whether changes are needed.
But hunters say that while the deaths of the two whoopers was tragic, officials shouldn't overreact.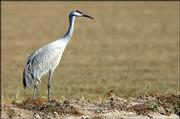 "Are they going to punish everybody for what these guys did?," asked Forrest Gough, a hunting guide from Scott City. "That's not right."
Endangered whooper
The whooping crane shootings Nov. 6 near the Quivira National Wildlife Refuge devastated wildlife advocates. The high-profile bird is seen by many as the American equivalent of other endangered species, such as the Bengal tiger or white rhinos.
Nearing extinction in the 1940s when there were only about 20 whoopers left, the bird's population has increased to a few hundred, about one third of which live in captivity.
A group of seven hunters said they mistook the tall white whoopers for sandhill cranes.
A third crane may also have been shot. It has been seen staying near the refuge and appears to be regaining strength.
"We assume it was carrying some shot," said refuge manager Dave Hilley.
An investigation into the shooting continues, according to Kenneth Kessler, a special agent with Fish and Wildlife.
People found guilty of killing a federally protected endangered species face up to one year in prison and $100,000 in fines.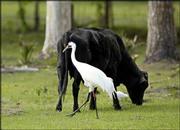 Too risky
But folks like Iversen say the whole incident could have been avoided by getting rid of sandhill crane season, which in Kansas runs from Nov. 6 to Jan. 2.
During the season, sandhill crane hunting is allowed from sunrise to 2 p.m. in an area west of a north-south line formed by Interstates 35 and 135 and U.S. Highway 83.
Kansas instituted a sandhill crane season in 1993 after getting permission from U.S. Fish and Wildlife.
In those 11 hunting seasons, 4,284 hunters have hunted 15,269 days and bagged 10,908 sandhill cranes, the state wildlife and parks department reported.
While the killing of the two whoopers appears to be the first instance of mistaken identity, bird enthusiasts said it has only been a matter of time before hunters accidentally killed the endangered birds because they often fly with sandhill cranes, and younger whooping cranes are about the same size of their sandhill cousins.
Though the Lawrence Audubon chapter would like to see sandhill season abolished, the statewide Audubon Society has recommended Kansas instead make some changes, such as starting legal sandhill crane shooting at 9 a.m. instead of sunrise when visibility is worse, and opening the season later in November to allow more whoopers to pass through.
Gough, the Scott City hunting guide, organizes sandhill crane hunts two weeks out of the year.
He said moving the season to later in the year would essentially do away with sandhill crane hunting because by mid- to late-November most of the cranes have scattered because of intensive pheasant season hunting.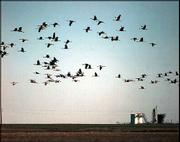 And, he said, he could possibly agree with moving the daily start time to 8 a.m. or 9 a.m., but said whatever time of day the shooting starts, hunters must be aware that whoopers are sometimes with sandhill cranes.
"As a guide, we will not raise a gun until we are positive of what we are shooting at," he said. Gough said hunting guides will look for whoopers in order to know what areas to stay away from.
He said getting rid of sandhill crane season would hurt Kansas economically because hunters come from around the country to hunt the bird.
Sandhill cranes are tough to bring down, he said, and they are "the best eating bird in the sky."
But the shooting deaths of the two whoopers has hurt Kansas' reputation, Iversen said, and hunting sandhill cranes is not necessary to feed the hungry. All it does, she said, is put the whoopers at risk.
"It seems to me we could give up hunting cranes," Iversen said. "There would still be lots of other waterfowl to hunt."
Copyright 2018 The Lawrence Journal-World. All rights reserved. This material may not be published, broadcast, rewritten or redistributed. We strive to uphold our values for every story published.