Vienna, Austria — Ukrainian presidential candidate Viktor Yushchenko was poisoned with dioxin, doctors said Saturday, adding that the highly toxic chemical could have been put in the opposition leader's soup, producing the severe disfigurement and partial paralysis of his face.
Yushchenko was in satisfactory condition and was expected to be released from Vienna's private Rudolfinerhaus clinic today or Monday to return to the campaign trail in Ukraine, said hospital director Dr. Michael Zimpfer.
Yushchenko, who faces Viktor Yanukovych in a rerun of a disputed presidential runoff on Dec. 26, has claimed that he was poisoned by Ukrainian authorities, who deny the charges. His supporters at home expressed little surprise over the doctors' conclusion.
"Everybody knew he was poisoned, so we didn't really need official tests," said Anatoly Klotchyk, 19, standing in the sleet outside his tent near Kiev's Independence Square, where supporters have conducted a blockade of government buildings since the dispute flared, grabbing international attention after the runoff last month.
Campaigners for his opponent, Viktor Yanukovych, meanwhile, again rejected suggestions that the prime minister was involved in the poisoning.
There is "no logic in such an accusation," said Taras Chornovyl, Yanukovych's campaign manager.
Yanukovych was declared the winner of the Nov. 21 presidential runoff, but the results were annulled by the Ukrainian Supreme Court, which cited massive fraud and ordered a new vote.
Yushchenko fell ill in early September and had been treated at the Vienna clinic twice before. But it was the tests run since he checked in Friday night that provided conclusive evidence of the poisoning, Zimpfer said.
The 50-year-old politician also has suffered from back pain and acute pancreatitis.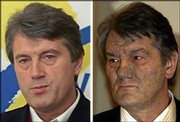 "There is no doubt about the fact that Mr. Yushchenko's disease -- especially following the results of the blood work -- has been caused by a case of poisoning by dioxin," Zimpfer said.
"We suspect involvement of an external party, but we cannot answer as to who cooked what or who was with him while he ate," Zimpfer said, adding that tests showed the dioxin was taken orally.
Zimpfer said Yushchenko's blood and tissue registered concentrations of dioxin -- one of the most toxic chemicals -- that were 1,000 times above normal levels.
"It would be quite easy to administer this amount in a soup," Zimpfer said.
Copyright 2018 The Associated Press. All rights reserved. This material may not be published, broadcast, rewritten or redistributed. We strive to uphold our values for every story published.