Last week I wrote about taking your digital memory cards to a photo-processing lab to get prints made. If you would like to make your own prints, the technology is readily available, not too expensive and fairly easy to use. Most modern consumer desktop digital printers can easily produce 4-by-6-inch photo album-sized prints equal in quality to those done at photo labs. In fact, several manufacturers are making compact printers designed specifically to use with their cameras for these small prints.
Making a quick 4-by-6-inch photo print with these digital packages can be as simple as plugging your camera directly to the printer and pushing "go." All you need to do is keep the printer supplied with photo paper and ink. It's worth noting that ink technology has improved rapidly and many printer and ink manufacturers claim to produce prints as fade-resistant as traditional film prints.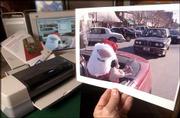 For me, the real joy of doing your own printing is producing enlargements up to 11-by-14 inches to decorate your home, give as gifts or organize into your own photo exhibition. Since there are as many printers as there are cameras, I won't recommend a specific brand. But here are some things to keep in mind while shopping for your printer:
Make sure it is compatible with your computer. Most printers come with Windows or Macintosh compatibility.
If you want to make prints up to 11-by-14 inches, look for a printer with a minimum 2,400-by-1,200 dots per inch (DPI). This is how photo resolution is measured. The more dots per inch, the better the detail in your prints.




Printers can be fairly inexpensive, but ink expenses will add up. It would be wise to check prices on ink sets for each printer you consider. If you are planning on doing a lot of printing, consider buying a printer that has individual ink tanks, not ink cartridges. When one ink runs out, you only have to refill the tank instead of replacing the entire, costlier cartridge.
If you like a certain type of paper stock or size, you might consider buying the same brand printer as the paper you prefer. Printers generally work best with papers from the same manufacturer.
You'll need a software program on your computer to view, size and manipulate photographs. Most cameras and printers come bundled with a variety of these software packages. A very popular digital imaging program, and a great one to consider purchasing if it is not bundled with your printer, is some version of Adobe Photoshop.
Copyright 2018 The Lawrence Journal-World. All rights reserved. This material may not be published, broadcast, rewritten or redistributed. We strive to uphold our values for every story published.