Chicago — It's a staple of Christmastime Chicago: standing in the crowds outside the elaborate window displays of Marshall Field's State Street store, jostling for a glimpse. A block away are Daley Plaza's famous Picasso sculpture and annual tall tree.
But this year there's a new dimension to that traditional Loop scene. Look east, beyond the gritty el tracks on Wabash Avenue, and you see the soaring, swirling silver arcs of Frank Gehry's outdoor music pavilion, which opened this summer at the new Millennium Park -- visions of Bilbao on the lake.
The holidays are a great time to revel in Chicago's storied collection of architecture and outdoor art, old and new. To enjoy the city's greatest gifts, dress warmly and get out into the streets and parks. Besides, coming in from the cold only makes Chicago's indoor pleasures -- theater, music, food, shopping, museums, ballet -- that much sweeter.
Sculpture and shopping
A good place to start is Millennium Park's shining new installations, which sit on 25 lakefront acres along Michigan Avenue just north of the Art Institute (itself a year-round must-see). Much of the area used to be railroad tracks.
Along with Gehry's Jay Pritzker Pavilion, which will offer free concerts in January and February behind steel and glass doors, park highlights include the 110-ton stainless-steel "Cloud Gate," by sculptor Anish Kapoor, which looks like a giant lima bean -- thus its nickname, "The Bean."
Other park highlights include a busy outdoor skating rink, an ornamental garden, a Gehry-designed bridge, a fountain and a Great Lawn. At night, lights dance off the polished surfaces.
For another outdoor light show, there's the stroll up the "Magnificent Mile" of North Michigan Avenue, where the trees traditionally are draped in tiny white lights.
While many of the Michigan Avenue stores can be found at malls across the country, Garrett Popcorn Shops stands out as an old-time Chicago original (with three other locations in the city). A bit of warm, buttery popcorn can help get you through that next round of holiday shopping.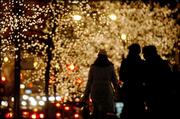 Or indulge in another holiday tradition: tea at the Drake Hotel, at the northern tip of Michigan Avenue. One of Chicago's grand old hotels, the Drake offers afternoon tea, with finger sandwiches and harp music. There are peanut butter and jelly or cheese sandwiches for kids.
The Loop offers a more old-fashioned Chicago stroll. If you go see Field's windows, a tradition since 1897, don't leave without at least a peek inside the hometown department store, which feels nothing like just another big-box retailer. Its stories-tall indoor courtyards are lined by arcades and crisscrossed by escalators.
Finding warmth
At Daley Plaza, kids might enjoy Santa's Home, or try to guess what the giant, unnamed Picasso sculpture might be (woman? dog? bird?).
When you're ready to warm up, two theatrical holiday traditions are the Joffrey Ballet's "Nutcracker" at the Auditorium Theatre, and "A Christmas Carol" at the Goodman Theatre. And of course there are such Chicago mainstays as the Steppenwolf Theatre Company, the comedy club Second City, and a thriving blues and jazz scene.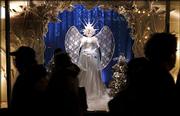 Navy Pier offers indoor skating, games and hundreds of decorated trees at its "Winter Wonderfest." It also will have fireworks on New Year's Eve, visible anywhere in Grant Park. New Year's Eve fireworks will take place at Buckingham Fountain, too.
Other good holiday bets include:
Lincoln Park Zoo, lit up specially for the season.
The Museum of Science and Industry, with an exhibit on "Christmas Around the World and Holidays of Light."
The Chicago Botanic Garden, in suburban Glencoe, offering "Celebrations! A Festival of Flowers, Light and Music."
¢ Visiting Chicago: Packages and promotions for holiday vacations and weekend visits in January and February: www.877chicago.com or (877) CHICAGO.¢ Holiday events: www.cityofchicago.org/specialevents or (312) 744-3370.¢ New Year's Eve fireworks: At Buckingham Fountain, Congress Parkway and Columbus Drive, (312) 744-3370. At Navy Pier, 600 E. Grand Ave., (312) 595-PIER or www.navypier.com.¢ Winter Wonderfest: Decorated trees, ice skating and kids' activities through Jan. 2 at Navy Pier, 600 E. Grand Ave., (312) 595-PIER or www.navypier.com.¢ Millennium Park ice skating: 55 N. Michigan Ave., (312) 742-5222. Free admission; skate rentals, $7. Open 10 a.m.-10 p.m. daily.¢ Magnificent Mile: From 900 N. Michigan Ave. to the river.¢ Marshall Field's: Decorated windows and Walnut Room at the store at State and Randolph streets; www.fields.com or (312) 781-1000.¢ Daley Plaza: 50 W. Washington or (312) 744-3370; Santa's House, holiday tree, Picasso sculpture.¢ Garrett Popcorn Shop: Four locations in Chicago, including 670 N. Michigan Ave., (312) 944-2630.¢ Tea at the Drake Hotel: Served from 10:30 a.m. to 5 p.m. Saturday and Sunday, 11 a.m. to 5 p.m. Monday to Friday, $24.50 a person; 140 E. Walton Place, (312) 787-2200, ext. 4615, or www.thedrakehotel.com.¢ Lincoln Park Zoo: Cannon Drive at Fullerton Parkway; (312) 742-2283 or www.lpzoo.org; "Zoolights" from 5 p.m. to 9 p.m. through Jan. 2.¢ Museum of Science & Industry: 57th Street and Lake Shore Drive; (773) 684-1414 or www.msichicago.org. "Christmas Around the World and Holidays of Light" through Jan. 9. Open 9:30 a.m. to 4 p.m. Monday to Saturday; 11 a.m. to 4 p.m. Sunday. Adults, $9; children, $5. Discounts for Chicago residents and seniors.¢ Chicago Botanic Garden: 1000 Lake Cook Road, Glencoe; www.chicago-botanic.org/ or (847) 835-5440. Open 8 a.m. to sunset.Note: Some venues close Christmas Eve, Christmas Day, New Year's Eve and New Year's Day. Call ahead to check.
Copyright 2018 The Associated Press. All rights reserved. This material may not be published, broadcast, rewritten or redistributed. We strive to uphold our values for every story published.