The case of a Kansas State University professor charged with murdering his ex-wife headed into uncharted legal territory Thursday as prosecutors presented evidence of an Internet search history from the suspect's computers.
"The Supreme Court hasn't talked about any of this stuff," said Douglas County District Court Judge Robert Fairchild.
A Lawrence Police detective who examined computers seized from Thomas E. Murray testified that in the month before Carmin D. Ross' killing, Murray's computers had been used to search the Internet for phrases that included "how to hire an assassin," "how to kill someone quickly and quietly" and "how to murder someone and not get caught."
Fairchild allowed Detective Dean Brown to give a PowerPoint presentation summarizing what he'd found as he used computer-forensic software to dissect computers taken from Murray's home and office. Some of the Web pages he displayed in court weren't found on Murray's computers, Brown said, but the Internet history showed he had visited the page.
Evidence in dispute
Murray's attorneys objected to those pages being shown, but Fairchild allowed it.
"I don't know how else you can do it," Fairchild said. "My understanding is just because he visited it doesn't mean it would be saved to the hard drive."
The judge said he allowed Brown's presentation in part because it would be helpful in settling disputes about what could and couldn't be shown to a jury during trial.
Thursday was the fourth day of Murray's preliminary hearing, a proceeding in which prosecutors are trying to convince Fairchild there's enough evidence for Murray to stand trial.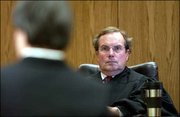 Brown testified that even though Murray appeared to use his computer regularly on Thursday mornings, there was virtually no file activity on Murray's computers the morning of Nov. 13, 2003, the day prosecutors allege he drove to Lawrence and stabbed and beat Ross to death.
Ross, 40, an attorney and mediator who was studying alternative-healing techniques, was found Nov. 14, 2003, in the living room of her home northwest of Lawrence.
'Murder for hire'
A friend of Murray's has testified he told her he used his computer to research murder techniques because he wanted to write scripts for the television show "C.S.I.: Crime Scene Investigation."
Brown testified there were several searches for the term "csi" found in Murray's Internet history starting in October 2003. Other search terms around that time included "murder for hire," "how to poison someone," "Highway 40" and "Topeka."
Other testimony Thursday:
Prosecutors began screening a nearly 10-hour video of Murray speaking with detectives at the Riley County Police Department in Manhattan the day Ross' body was found. Murray began by giving his vital statistics and describing how he met Ross in 1984 while he was teaching a class at Ohio State University.
He said Ross underwent a change in summer 2002, becoming more and more interested in alternative-healing techniques that he called "bizarre."
"I was telling friends that she was going through a midlife crisis," Murray told the detectives. "It was like the same body with a different person in it ... She started questioning everything, including our relationship."
Murray told detectives that when Ross met another man and decided she wanted to move to California, he worried about losing touch with his daughter, then age 4.
"I didn't want to be the kind of father that sees his kid every major holiday and a couple of weeks in the summer," he said.
Blood-stain expert Michael Van Stratton of the Kansas Bureau of Investigation testified that the blows to Ross' body came while she was low to the ground.
Murray's attorney, Pedro Irigonegaray of Topeka, pointed out during cross-examination that Van Stratton wasn't given all the pertinent information from the crime scene, didn't analyze blood drops on the ceiling and didn't go to the scene himself.
Van Stratton acknowledged during cross-examination it appeared there were blood marks left by two different shoe patterns at the scene.
Defense attorney Robert Eye asked the judge to strike Riley County Police Detective Brad Schlerf's testimony about his observations of Murray's body language during his interview with police. Eye said Schlerf wasn't qualified to give expert testimony. Assistant Dist. Atty. Angela Wilson said it wasn't being offered as expert testimony.
Fairchild denied Eye's request but said, "This is an issue we probably need to look at before trial."
The hearing was to continue this morning with prosecutors expected to screen the rest of the video showing Murray's police interview.
Copyright 2017 The Lawrence Journal-World. All rights reserved. This material may not be published, broadcast, rewritten or redistributed. We strive to uphold our values for every story published.