Topeka — Even the coin flips were divided.
So-called moderate Republicans in the Kansas Senate won the top leadership races, but after three hours of balloting and numerous ties, it was apparent the GOP caucus was deeply split.
"It's obvious with all the tie votes, we need to improve more than ever the need to work together as a caucus," said Sen. Steve Morris, R-Hugoton, who was elected Senate president.
In the House, conservative leaders were unchallenged in their re-election bids.
The leadership campaigns, while essentially hidden from the public eye, set the tone for the legislative session that starts Jan. 10.
Gov. Kathleen Sebelius, a Democrat, will face an overwhelmingly Republican Legislature, with the GOP holding a 30-10 advantage over Democrats in the Senate and an 82-43 majority in the House.
Kansas Republicans, however, are known for fighting among themselves, and those brawls could get rougher depending on how the Kansas Supreme Court rules on a lower court decision that public schools are unconstitutionally underfunded by about $1 billion.
"The Senate Republican caucus is very, very evenly split," said Sen. Karin Brownlee, R-Olathe.
Brownlee is considered a conservative. She and Sen. Jim Barnett, R-Emporia, battled through seven rounds of tie 15-15 votes for the position of assistant majority leader. Brownlee won 16-14 on the eighth ballot.
Moderates, however, won all the top positions to retain control of the Senate. Morris defeated state Sen. Nick Jordan, R-Shawnee, 17-13. Sen. Derek Schmidt, R-Independence, defeated Sen. Tim Huelskamp, R-Fowler, 18-12, for majority leader.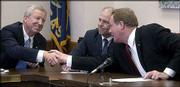 Sen. John Vratil, R-Leawood, defeated Sen. Les Donovan, R-Wichita, 16-14, for Senate vice president; and Sen. Jean Schodorf, R-Wichita, defeated Sen. Phil Journey, R-Haysville, 16-13 for majority whip.
Both Morris and Schmidt replace senators who did not seek re-election.
Contests between moderate and conservative candidates for positions on a Senate rule-making committee ended in numerous tie votes, two of which had to be resolved by a coin flip. One toss went heads, the other tails.
The voting was done by secret ballot as Senate Republicans wrote on slips of paper and put their ballots in a white cardboard box. One senator, Susan Wagle, R-Wichita, voted by telephone because she was in Texas where her son was being treated at a hospital for cancer.
Unlike previous years, senators allowed the media to witness the voting. There was little debate and no harsh words between candidates.
Not so different
After the voting, the moderates sought to downplay differences with conservatives, saying Republicans should focus on their similarities.
"We agree a lot more than we disagree," Morris said.
On policy issues, conservatives are consistently more anti-abortion, anti-tax increase and more skeptical of increases in public school funding. They also will push quickly for a proposed constitutional amendment to prohibit same-sex marriage.
Morris, who supports a same-sex marriage ban, said sometimes the lines were blurred between the two sides.
"A number of us on the so-called moderate side, we have some fairly conservative views," he said.
But Brownlee said a conservative such as Jordan was more "consistently pro-life" than Morris.
This was the first leadership election process for 10 of the 30 Republicans. Sen. Roger Pine, R-Lawrence, is one of the freshmen.
He declined to say whom he supported in the races.
"I am encouraged because there are representatives from both sides," Pine said. "I would hope that is a step toward a better opportunity to build consensus."
Democrats vote, too
Democratic leadership races were more routine. Both House Minority Leader Dennis McKinney of Greensburg and Senate Minority Leader Anthony Hensley of Topeka were re-elected. Sen. Janis Lee, D-Kensington, and Rep. Jim Ward, D-Wichita, were elected assistant minority leaders.
Rep. Barbara Ballard, a Democrat from Lawrence, was re-elected as caucus chairwoman in the House.
Copyright 2018 The Lawrence Journal-World. All rights reserved. This material may not be published, broadcast, rewritten or redistributed. We strive to uphold our values for every story published.