Probably the only person Saturday afternoon in Allen Fieldhouse -- other than Pacific fans -- who knew how to pronounce Pacific's Christian Maraker's last name correctly was former KU women's basketball player Leila Mengüç.
After all, Mengüç -- like Maraker, the Tigers' 6-foot-9 junior forward -- is a native of Sweden. In fact, the two attended the same high school, Sanda Gynnasiet, in Stockholm.
While public-address announcer Hank Booth, KU coach Bill Self, and, no doubt, the Jayhawk faithful were mispronouncing his name, Maraker and Pacific were leaving their mark on Kansas -- before finally falling, 81-70.
"Mar-a-ker ... oh, I'm butchering his name again," Self said of the Tigers' top scorer, who scored 22 points on 8-of-16 shooting. "How do you pronounce it? Oh, OK, 'Mor-a-kor.' He's really terrific.
"We told everyone that (Pacific) was good, and they were by far the best team we have played."
That showed from the outset.
An aggressive Pacific player accidentally bit KU forward Wayne Simien, drawing blood. But that was only the beginning of the Tigers' ferocious attack that didn't die down until the final two minutes.
The defeat marked only the second time in 20 games that Pacific had been beaten. Both losses came to the Jayhawks, because KU also defeated the Tigers, 78-63, in the second round of the NCAA Tournament in Kemper Arena.
"Hopefully, that means we're due to win the next 20 games, because I know we're not going to play them anytime soon," joked Pacific coach Bob Thomason. "Then maybe we can meet up with them in the tournament again."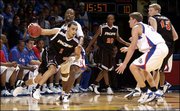 But much like last year's meeting in Kansas City, Mo., the defending Big West champs (2-1) proved they were not going to be intimidated -- even on the second-ranked Jayhawks' home court.
"It's fun, that's how you want it to be," Maraker said of the wild atmosphere of the fieldhouse. "I talked to Leila last night, and she told me this place was going to just be crazy, and it definitely was."
Regardless, Pacific erased a 6-2 KU lead in the early moments and actually held the advantage five times during the first half before going into the break down 35-34.
"I think if we didn't have as many turnovers, we might have actually held the lead at halftime," said Thomason, whose team gave the ball up 11 times in the first 20 minutes.
A three by Maraker to start the second half put the Tigers right back on top, but a four-minute scoring dry spell probably kept Pacific from turning the game into a "white knuckler," like Thomason thought his team was capable of achieving at halftime.
"If you don't make shots, how are you going to go into a great team on the road and win? It's just not going to happen," continued Thomason, whose said he chose to slow down Simien -- who hurt the Tigers last year -- by using a fronting defense.
That set opened up the outside game for KU's guards, who went off Saturday.
But Thomason said ending up just short on the road at this point in the season could be looked at as a positive for his program.
"We did a lot of good things tonight," said Thomason, Pacific's all-time winningest coach who also played for UOP. "I thought a lot of the things we can get better at. It'll be interesting to see how much better we can get as the year goes on. I think our shooting and our role playing will get better as the year goes on.
"If we continue to do those this and get better, then we'll be a team that has to be reckoned with by somebody later."
Copyright 2018 The Lawrence Journal-World. All rights reserved. This material may not be published, broadcast, rewritten or redistributed. We strive to uphold our values for every story published.