Kameron Orr is doing what she can to make her life normal.
It's tough being a 19-year-old deciding how to rebuild the house in Olathe where her parents and three brothers were killed in a fire. And then there are all the attorneys and paperwork to deal with.
Two months after a fire devastated her family, Orr is back at Kansas University, where she's a sophomore majoring in education. She's on track to get straight-A's -- or maybe a couple of B's -- in a 19-hour course load.
"I don't think my parents would have wanted it any other way," she said.
The fire, early on Oct. 16, killed Matt and Rebecca Orr, both 46, and three of their sons: Benjamin, 18, Jeremiah, 16, and Kyle, 14. Fire officials still have not determined what caused the blaze.
Another son, 23-year-old Justin, was in the house but escaped. Kameron Orr, who also lived in the house, was staying with a friend in Lawrence after the "Late Night in the Phog" event at Allen Fieldhouse.
Orr also lost a sister in 2003 to a brain aneurysm after a long illness.
Justin and Kameron Orr are staying with friends in Kansas City, Kan. They plan to move into an apartment together next year.
"If Justin wasn't there -- and he's said it before -- I really think it would be unbearable," Kameron Orr said. "He's somebody I can sit with who knows what it's like -- and not just trying to empathize. If I didn't have him, I think it would be unbearable."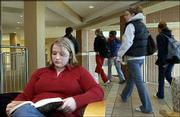 Both siblings returned to school -- Kameron to KU, Justin to Johnson County Community College -- about two weeks after the fire.
"I spent enough time sitting around, and I was bored," Kameron Orr said. "It's not like I have a lack of things to do, but I was looking forward to getting back to my routine."
She said school offered her a chance to get away from the details of life after the fire, though thoughts of her family often dart into her mind -- like driving around with her brother Benjamin with the music blaring, or teasing her parents and brothers.
Her professors have been accommodating by giving her extensions and exemptions on assignments.
"It's been kind of hard to get back into the roll of things," she said.
Mike Neal, professor and assistant dean of the School of Education, said students in his Introduction to Teaching and Leadership class were taught how to help their future students deal with disasters. It's not often tragedy strikes a student in the class, he said.
He said when he announced the fire to the class, students immediately were asking how they could help Orr, and some cried.
"It's a big university, but it has exhibited all the characteristics you'd expect in a little community," Neal said. "She'll pay that back over her career. She has amazing strength and character. Part of her resolve is she wants to help people."
As the holidays approach, Orr said she was relying on her church community -- she attends the Church of Jesus Christ of Latter-day Saints in Olathe -- to get her through what she expects to be a difficult time.
The family always bought new pajamas on Christmas Eve and wore them to go caroling at church members' houses. This year, members of the church are organizing the caroling outing.
"I think it'll be really tough," Orr said. "I have a lot of faith. I know where my parents are. I know where my brothers are. I know where my sister is. That gives me the strength to go through this."
Copyright 2018 The Lawrence Journal-World. All rights reserved. This material may not be published, broadcast, rewritten or redistributed. We strive to uphold our values for every story published.