Kansas University freshman Sasha Kaun figures to do the most damage on the basketball court two to three feet from the goal.
But, on Monday night, the 6-foot-11, 235-pound center from Russia proved he can be dangerous on the perimeter, too.
Trailing on the fast break, Kaun accepted a pass from Michael Lee at the top of the key and drilled a 17-foot jumper in the Jayhawks' 85-52 rout of Nevada.
"We've been working on the high/low (offense). If you are open, you shoot. I guess I was open, so I shot it," Kaun said. "Coach is pretty open. He says if it's a good shot, why not take it?
"In a previous game I had a shot like that and the defense was in my face. This time I was open. I was not really expecting it to go in, but it did. I said, 'Oh well, nice.'"
Kaun hit one of four shots and one of two free throws with five boards in 14 minutes.
"If he's wide open, you bet," KU coach Bill Self said, asked if he approved of Kaun firing jumpers.
"It looked good. I can see him banking it in sometimes, too though," Self added, grinning. "Those guys need to feel comfortable they can make that shot. We practice that shot numerous times every day. They've got to know time, score and momentum."
Kaun is beginning to learn what is a good shot and what is a bad shot.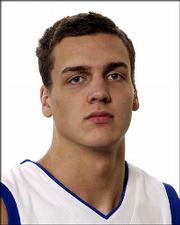 "It's getting more comfortable than it used to be," said Kaun, who has made three of eight shots. "There's so much running here. For me it felt so much different (than high school). The more I understand, the game slows down. It becomes much slower with time."
No. 2-ranked KU (3-0) will meet unranked Pacific (2-0) at 2 p.m. Saturday at Allen Fieldhouse.
¢
Early wake-up call: The Jayhawks held two practices on Thursday -- the first starting at the early hour of 5 a.m -- yes, 5 a.m. -- and the second in the afternoon.
"I was disappointed we didn't get everything done Wednesday after a day off," Self said. "So we were able to get it finished Thursday."
¢
Case update: Expect a decision in the near future regarding the status of sophomore guard Jeremy Case, who has yet to practice this season because of a groin injury. Indications remain strong Case will take a red-shirt season, that is, practice but not play in games and have three years of eligibility remaining starting next season.
¢
Transfer talk: The Seattle Times and Los Angeles Times wrote in Thursday's editions that USC transfer Rodrick Stewart would be making a recruiting trip in the near future to Gonzaga. During the Thanksgiving holiday, the 6-4 sophomore told four newspapers and rivals.com he was set on making KU his final destination provided his grades were in order. He was academically ineligible first semester at USC.
Asked to comment on the Gonzaga reports Thursday, Seattle native Stewart said: "To be honest, I don't think I'm taking any more trips. There's no reason to."
Stewart said after his grades were in he would make an official announcement about his final destination around Dec. 20. He said he still intended for that destination to be KU.
"The only school he wants to be at is Kansas," his dad, Bull Stewart, said of Rodrick, who, if he transfers here, would be eligible to play second semester of the 2005-06 season.
Stewart's twin brother, Lodrick, threatened to transfer from USC after Tuesday's loss to LaSalle. He balked after being removed from the game by coach Henry Bibby. Cooler heads prevailed Wednesday, and Lodrick has decided to remain at USC.
"He was frustrated. It was the first time we'd not been around each other on the court," Rodrick said of his brother. "He wants to be here (USC)."
Copyright 2018 The Lawrence Journal-World. All rights reserved. This material may not be published, broadcast, rewritten or redistributed. We strive to uphold our values for every story published.