Starkville, Miss. — Mississippi State coach Rick Stansbury wondered if the Bulldogs already were looking ahead to their next game.
Then, Lawrence Roberts took over.
Roberts scored 14 of his 19 points in the second half, leading No. 15 Mississippi State to a 66-52 victory over South Alabama on Thursday night. Roberts, a preseason All-American and last season's Southeastern Conference player of the year, also had 13 rebounds.
"They just decided for the whole game -- particularly the first half -- that if (Roberts) touches the ball, someone else is going to have to score," Stansbury said. "We're going to see a lot of that all year long."
Shane Power added 16 points, and Winsome Frazier had 12 for the Bulldogs (6-1), who took control by opening the second half with a 16-4 run. Mississippi State shook off an eight-day layoff and won its third straight since losing to Syracuse two weeks ago.
Mario Jointer led South Alabama (2-3) with 15 points.
Before the game, some Bulldogs approached their coach and asked about Sunday's game against No. 21 Arizona in the Wooden Classic in Anaheim, Calif.
"I told them we have South Alabama to contend with first," Stansbury said.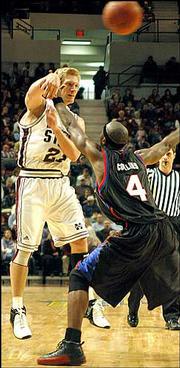 Mississippi State players shrugged off the suggestion that at least once in a while, they looked past the Jaguars.
South Alabama, which trailed by 16 with 6:23 remaining, got no closer than nine the rest of the way and had just two points in the final 3:58.
The Jaguars -- who entered making nearly half of their field-goal attempts -- were held to 33 percent (20-of-59) shooting for the game, and just 27 percent in the second half.
"We've got to grow up," South Alabama coach John Pelphrey said. "At times, we looked really impressive. Other times, we looked like we didn't know each other at all."
Mississippi State improved to 9-0 all-time against South Alabama, and 39-3 in non-conference home games under Stansbury.
The Bulldogs started slowly for the second straight game, falling behind by six early in the first half -- just as they did against Missouri-Kansas City.
"They did a good job of, every time I touched it, coming with the (double-team)," Roberts said. "At times, we didn't get as much movement as we wanted to, but I think we'll work on that and continue to get better."
Copyright 2018 The Associated Press. All rights reserved. This material may not be published, broadcast, rewritten or redistributed. We strive to uphold our values for every story published.