During his 22-year-career with the Wichita Police Department, Mike McKenna sometimes dreamed of the day he might sit at an interview table with that city's BTK serial killer.
That day never came to pass; McKenna left the department without making his dream arrest, and is now Baldwin's police chief. But on Thursday, he watched with the rest of the world as speculation exploded that the murderer had been caught, and as Wichita police tried to put a lid on the conjecture.
"I'm hopeful," McKenna said Thursday, after talking by phone with some former colleagues.
But Wichita officials insisted Thursday afternoon they had not made an arrest in the BTK serial killings case, and an upset Police Chief Norman Williams called the speculation about an arrest a "travesty."
"We have not, I repeat, we have not, made an arrest in connection to BTK," Williams told reporters Thursday afternoon.
Williams did not take any questions from reporters, and his statement to the media did not directly address the arrest of a man taken into custody Wednesday night on minor trespassing and housing code violations.
Earlier in the day, state police said authorities were testing a man's DNA to see whether he had any connection with the BTK serial killings that terrorized the city in the 1970s. Since the 1980s, police have tested hundreds of samples of blood and DNA in the case, authorities noted.
"DNA has been a godsend for the investigation," Kansas Bureau of Investigation spokesman Kyle Smith said. "It allows us to eliminate people quickly."
The investigation
The killer -- known by the self-coined nickname BTK, which stands for "Bind, Torture, Kill" -- is linked to eight unsolved homicides between 1974 and 1986. After years of silence, the killer resurfaced in messages earlier this year.
In an appeal to the public for clues, investigators on Tuesday released a series of details that the killer mentioned in letters to Wichita media. The letters suggest the killer was born in 1939, lost his father in World War II and is a railroad buff.
The man arrested Wednesday is 64 or 65. Public records gave conflicting birth years: 1939 and 1940.
BTK's communications indicate a lifelong fascination with trains, police said Tuesday. Among other details from the killer's letters: His father was killed in World War II, and his grandfather played the fiddle and died of lung disease. He knew a woman named Petra who had a sister named Tina. He operated a ham radio in the early 1950s, and served in the military and was discharged in 1966.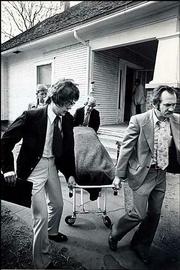 Such details suggested to McKenna, who spent the latter part of his Wichita career in charge of the special investigations section that worked on the BTK murders, that the killer wanted to be caught.
Clever 'psychopath'
"With the leads he was giving to police, it was apparent he was trying to turn himself in," McKenna said.
But there has been speculation that those clues were actually intended to throw police off -- or even to cast blame on an innocent.
"This psychopath is extremely clever," McKenna said. "It wouldn't be out of the realm of possibility he would cast a shadow on another individual."
McKenna said he wanted the killer caught for the sake of the families who lost loved ones.
"When we don't provide (closure) for them, they feel the system has let them down," he said.
And he has a personal interest, as well.
"I'm extremely interested in the developments in the case," McKenna said. "It's a high-profile case you'd like to see closure to."
-- The Associated Press contributed to this report.
Copyright 2017 The Lawrence Journal-World. All rights reserved. This material may not be published, broadcast, rewritten or redistributed. We strive to uphold our values for every story published.