Unthinkable. Unbelievable. Inexplicable.
How often does a Kansas University basketball team lose to a Division Two school in Allen Fieldhouse?
It happened Thursday night when Kansas' women went into an 11-minute second-half sinking spell and suffered a stunning 62-59 loss to Washburn University.
"We didn't adjust," KU guard Aquanita Burras said, "and we're kicking ourselves in the butt for that."
The Lady Blues did some butt-kicking themselves when they rallied from a 39-21 deficit with a little less than 18 minutes remaining and fashioned a 54-44 lead with 6:34 left.
Down by 18. Up by 10. A 28-point turnaround.
"Give Washburn credit," KU coach Bonnie Henrickson said, "for coming back with confidence on the road."
Most of the credit goes to Jennifer Harris, a junior forward who played only six minutes in the first half because of foul trouble and didn't score.
Harris potted 12 straight points during a 19-1 run that forged a 40-40 tie and finished with a game-high 21 points even though she logged only 11 minutes in the second half.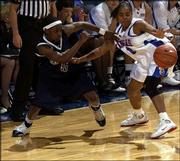 "She hit everything she threw up," said KU's Crystal Kemp who, like Harris, battled foul trouble all night, "and I couldn't do that for my team."
Washburn's second-half explosion began just 10 seconds after Kemp was forced to the bench because of her fourth foul. Henrickson reinserted Kemp a few minutes later, but the Jayhawks' leading scorer (17.0 ppg.) couldn't stop the bleeding.
Washburn's leading scorer, center Carla Sintra (16.0 ppg.), also was plagued by foul trouble, finishing with just seven points. Kemp had eight. But while Harris took up the slack for the Blues, no one stepped up for the Jayhawks during that horrid 11-minute disappearing act.
KU did regain some momentum late. After Jamie Boyd's conventional three-point play with :45.3 showing, Washburn's lead shrank to 59-57.
With a 30-second shot clock, Kansas was guaranteed another possession, but Kaylee Brown fouled Harris six seconds later.
"I said, 'Don't foul, don't foul,'" Henrickson said, "but Kaylee chose to foul."
Harris hit one of two free-throw attempts for a 60-57 lead, then Aquanita Burras converted underneath with :19 remaining to cut the gap to one. Six seconds later, however, Washburn's Megan Sullivan scored underneath.
KU's last gap was a lipped three-point attempt with five ticks remaining by Erica Hallman, who finished as the Jayhawks' leading scorer with 18 points. Burras added 16.
The three officials whistled 47 fouls -- 24 on the Blues and 23 on Kansas. KU lost starting forward Taylor McIntosh on fouls with 7:50 remaining. Kemp and Hallman wound up with four apiece.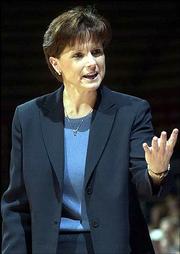 "It's frustrating when you can't play aggressive," Kemp said. "Every time you do something a whistle blows. I can say on a good number I didn't know what I did. But I did a bad job of adjusting."
Kemp, who hails from Topeka, shrugged off losing to her hometown team.
"It doesn't matter who it is," she said. "A loss is a loss."
Kansas had raced to a 35-19 halftime lead mainly on the strength of making six of 10 three-point attempts. In the second half, KU was 0-for-8 from beyond the arc.
"We were really dry in the second half," Burras said of that 11-minute funk in which the Jayhawks scored only five points. "That's very frustrating."
Washburn, ranked No. 9 in the WBCA Div. II poll, climbed to 4-0 and sent a message to future opponents with its first win over Kansas in 10 tries.
"It proves Washburn is nobody to joke around with," WU guard April Roadhouse said.
Kansas (3-2) will make its first road trip Sunday to Minnesota, a team that went to the NCAA Final Four last season.
Copyright 2018 The Lawrence Journal-World. All rights reserved. This material may not be published, broadcast, rewritten or redistributed. We strive to uphold our values for every story published.