Rita Owen got her Chevy S-10 Blazer when she was a high school senior. Four years later, she's not so sure it's a practical vehicle.
"I wanted lots of room, lots of space," said Owen, a Kansas University senior from Osborne who parked her SUV downtown Thursday. "Now I wish I had a smaller car; (the price of) gas is ridiculous."
Perhaps, but U.S. Census Bureau numbers released Thursday show that SUV ownership is on the rise in Kansas -- a 30 percent jump between 1997 and 2002, from 174,500 such vehicles to 226,400.
"I think that's been building for quite sometime, and the manufacturers have seen that," said Gary Bennett, general manager of Laird Noller Automotive.
Despite that explosion, Kansas actually lagged behind the nationwide growth in SUV ownership. The census said there were about 15 million SUVs on the road in 1997, a number that grew by 56 percent, to nearly 25 million, in 2002.
Bill Griffith, chairman of the Kansas Sierra Club, pronounced himself "heartened" by Kansas' relatively slow growth, but said there was still work to do. SUVs generally have horrible gas mileage, he said, hurting consumers' pocketbooks and increasing pollution.
"I think we're going to get away from the behemoths out there," Griffith said.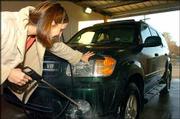 Bennett agreed, noting that Ford has just discontinued the giant Excursion SUV and has introduced the "hybrid" Escape, a mileage-friendly vehicle that runs on a blend of gas and self-generated electrical power.
"I think it's going to continue, the trend," Bennett said. "Smaller sport utilities are what you're going to see more of."
SUVs, Griffith suggested, may not be useful to the largely rural population of Kansas.
"We have a lot more people in suburbia driving them ... instead we've seen them essentially take over for station wagons," he said.
Owen, meanwhile, is trying to figure out her driving future -- and whether the Blazer fits in it.
"If I have kids, I'd like the extra room (of an SUV) later on in life," she said. "But as a college student, I really don't need it."
Copyright 2018 The Lawrence Journal-World. All rights reserved. This material may not be published, broadcast, rewritten or redistributed. We strive to uphold our values for every story published.