The shock should have been minimal after Nick Reid's season.
But the junior linebacker still went bug-eyed when he learned he was a first-team selection on the Associated Press All-Big 12 Conference squad, which was released Thursday.
"It's definitely a surprise," Reid said. "It's a great honor to be in such a prestigious conference and get recognition like that."
Reid joined teammate and sophomore cornerback Charles Gordon on the first team, while seniors Joe Vaughn (offensive line) and David McMillan (defensive line) earned second-team honors.
KU's representation on the AP team is unparalleled. Only once has any Jayhawk made the first team -- Ron Warner earned the honor in 1997 as a linebacker.
Never before had two Jayhawks made first team in one year -- a sure sign of the increasing respect KU has garnered across the conference.
"I think it's huge," Reid said. "It's only going to help us in recruiting."
Reid was one of the most consistent linebackers in the conference all year. His 109 tackles were second only to Nebraska's Barrett Ruud, and his 131/2 tackles for a loss were fourth overall.
He also added an interception, three sacks and a forced fumble while starting all 11 games for KU, which finished 4-7 overall and 2-6 in Big 12 play.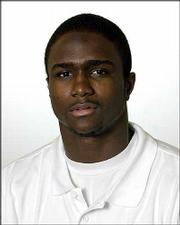 Gordon intercepted seven passes this season, currently ranking him first in NCAA Division I-A. Only one other player in the Big 12 -- Nebraska's Daniel Bullocks -- has more than four picks this season.
The Jayhawks also had four players earn honorable-mention honors: Gordon (all-purpose), sophomore John Randle (all-purpose), junior Kevin Kane (linebacker), junior Gabe Toomey (linebacker) and junior Rodney Harris (defensive back).
The all-conference squad was dominated by South players -- notably ones from Texas and Oklahoma, which combined to put 12 players on the first team. The South had five teams ranked in the Top 25 at some point this season, while the North had no team finish with a winning record in Big 12 play.
The AP team was selected by 20 newspaper reporters who cover college football in the league's seven states.
Big weekend ahead: KU will entertain several recruits starting today in what might be the Jayhawks' biggest recruiting weekend this year.
Among those making an official visit this weekend to Lawrence are Pittsburg quarterback Kerry Meier; Blue Springs, Mo., lineman James Stigall; Kansas City, Mo., defensive end Bobby Johnson; and St. Joseph, Mo., defensive back Justin Thorton.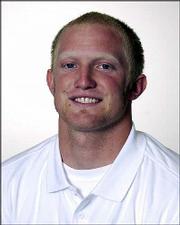 In addition, Jon Kirby of rivals.com said the presence of two wide receivers -- James McDonald from Washington and Raimond Pendleton of Garland, Texas -- especially was intriguing.
In all, Kirby estimates between 12 and 14 recruits could be on campus this weekend. Among other activities planned, the recruits will attend KU's men's basketball game Saturday against Pacific.
Copyright 2018 The Lawrence Journal-World. All rights reserved. This material may not be published, broadcast, rewritten or redistributed. We strive to uphold our values for every story published.