Memphis, Tenn. — Mike Fratello was hired as coach of the Memphis Grizzlies on Thursday, leaving the TV booth and replacing friend and mentor Hubie Brown, who retired last week for health reasons.
Fratello, sometimes known as "Little Hubie" when he worked as an assistant for Brown, coached the Atlanta Hawks for eight seasons and the Cleveland Cavaliers for six before going into sports broadcasting. He is the Grizzlies' seventh head coach.
"Today is the beginning of a new day for all of us," Grizzlies president Jerry West said. "We want to get back to where we feel good about ourselves."
Fratello said Brown wished him well and offered to give advice when asked.
"I am inheriting a team that knows organization, that knows discipline and plays unselfishly," Fratello said. "That is a great head start."
Memphis owner Michael Heisley likened Fratello's hard-nosed, demanding style to that of Brown's.
"Both of them really know the game," he said. "They're very strong disciplinarians, and I think our players will respond because they'll see a lot of Hubie in Mike."
Brown also left a broadcasting job to coach the Grizzlies in November 2002. He led the team to 50 victories last season and the franchise's first playoff appearance. But the Grizzlies started this season 5-11 and have lost five in a row, including four since Brown's departure.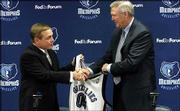 Brown, 71, was coach of the year last season and was the NBA's oldest coach when he retired last week. He declined to give details on his health, but said he was not seriously ill.
Copyright 2018 The Associated Press. All rights reserved. This material may not be published, broadcast, rewritten or redistributed. We strive to uphold our values for every story published.