Services for Cora Lee Price, 96, Lawrence will be at 2 p.m. Saturday at First Baptist Church in Lawrence. Private burial will be Sunday at Memorial Park Cemetery in Jackson, Miss.
Mrs. Price died Wednesday, Dec. 1, 2004, at Lawrence Presbyterian Manor.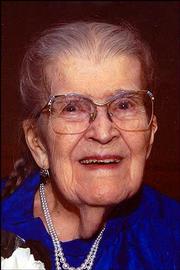 She was born Nov. 28, 1908, in Janesville, Wis., the daughter of Clarence Palmer and Cora Bertha Griffith Beers. She graduated Phi Beta Kappa from Beloit College in Wisconsin in 1932. She received a master's degree in English from Claremont College in California in 1933, and earned a doctorate in English literature with a minor in classics in 1940 at Stanford University.
Mrs. Price taught high school for two years in Tulare, Calif. She later taught English and Latin at Wilson College in Chambersburg, Pa., and at Kansas University and later became a full-time teacher in the KU classics department. She was president of Lawrence Music Club and helped establish Lawrence Civic Choir. She served in Janesville and Lawrence as a church organist. She was a member of First Baptist Church, Sigma Alpha Iota, and Zodiac, a local literary society. She taught for a semester in the English department at Baker University after she retired from Kansas University in 1979 at the age of 70. She was inducted into the KU Women's Hall of Fame on April 15, 2003. Her husband established the Cora Lee Beers Price Teaching Professorship of International Cultural Understanding at KU earlier this year.
She married G. Baley Price on June 18, 1940, in Beloit, Wis., He survives, of the home.
Other survivors include a son, Griffith B. Price Jr., Washington, D.C.; five daughters, Cora Lee Kluge, Madison, Wis., Lucy Jean Price and Edwina C. Price Eisert, both of Lawrence, S. Diane Price Fukunaga, Overland Park, and Doris J. Price Burgert, Wichita.
The family will receive friends from 7 p.m. to 8:30 p.m. Friday at the church.
The family suggests memorials to a charity of the donor's choice, sent in care of Rumsey-Yost Funeral Home.
Online condolences may be sent at www.rumsey-yost.com.
Copyright 2018 The Lawrence Journal-World. All rights reserved. This material may not be published, broadcast, rewritten or redistributed. We strive to uphold our values for every story published.