Bill Self grabbed the microphone Saturday afternoon, walked to center court and thanked 1,300 fans for filling Horejsi Center for Kansas University's pre-Canada tour intrasquad scrimmage.
"Obviously, we're not exactly in midseason form," Self, KU's second-year basketball coach, told an enthusiastic throng at the conclusion of the Blue team's 86-79 victory over the White squad. "But at least we made some shots today."
The fans -- including high school recruit C.J. Miles of Dallas, who grinned as the crowd chanted his name as he entered the building -- agreed after watching the Jayhawks hit 65 of 122 shots for 53.3 percent, including 18 of 36 three-pointers.
"We shot it well, which we didn't do except a couple of games last year, but the defense was at an all-time low," Self told reporters after watching J.R. Giddens and Nick Bahe lead the way with three three-pointers apiece. Aaron Miles, Alex Galindo, Russell Robinson, Michael Lee and Keith Langford each hit two.
But there was little for Self to groan about Saturday.
Sasha Kaun and Darnell Jackson led all freshmen with 15 and 13 points, and seniors Wayne Simien, Miles and Langford had 17, 16 and 15.
Lee swished two jumpers down the stretch, helping the White team to a 53-51 lead after two 10-minute quarters. Several players switched jerseys for the final 10-minute stanza.
"The three (freshmen) big guys played well today," Self said of Jackson, Kaun and C.J. Giles, a Seattle native who had seven points, six boards and two blocks. "Darnell probably had the best day of the three."
Jackson, a 6-8, 240-pounder, grabbed nine rebounds.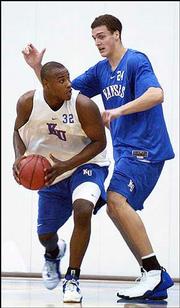 "Darnell reminds me a lot of myself my freshman year, how hard he plays -- a role player, banging, real physical," Simien said.
"D.J. is a beast. All he wants to do is rebound," Miles said.
Jackson took the court with something to prove.
"What was going through my mind today," the Midwest City, Okla., native said, "is I have to show the fans what I brought with me -- rebounds, putbacks, running the floor and playing hard.'"
"I think this freshman class is as good as any group they've had at any time," said Lee, a senior guard. "We've got five guys who can play and Matt (Kleinmann, walk-on four points) played very well today, too."
Robinson, a freshman point guard from New York, went head-to-head against Aaron Miles for two quarters, then teamed with Miles on the fastbreak during the final 10-minute session.
"I will always try to help Russell," Miles said. "Russell will be a great guard here."
Galindo, a 6-7 freshman, bricked his first three, but came back to ice two long threes and grabbed two rebounds. He showed his range in pregame warmups, hitting more than a dozen NBA threes.
"Alex was nervous early. He showed how he can shoot it late," Self said. "All the freshmen ... five practices in, not knowing what they are doing, I think they did well.
"I was pleased they had a chance to play in front of what I'd guarantee is what they'd tell you is a big-time environment compared to what they're used to playing in."
¢
Early birds: Fans Tim McLeod, 37, and Mark Seglem, 30, left their hometown of Wichita at 4 a.m. to be first in line at 6:30 a.m.
"We got here at 10:30 (a.m.) and some people were waiting in line. The fans here are remarkable," Self said.
No fans in line were turned away.
¢
Split squads: Self was asked how he split the teams.
"I walked out there and off the top of my head said, 'You're blue, you're white, you're blue, you're white.' It was an evenly matched scrimmage," he said.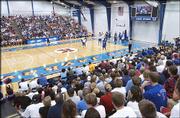 The best thing about Saturday's scrimmage?
"No one got hurt," the coach quipped.
¢
This, that: Suspended guard Jeff Hawkins sat on press row with former KU player Brett Olson. .... The teams made 17 of 24 charities ... The Jayhawks will head Friday to Canada for four games during Labor Day weekend.
Copyright 2018 The Lawrence Journal-World. All rights reserved. This material may not be published, broadcast, rewritten or redistributed. We strive to uphold our values for every story published.