Ottawa — Walk into Sam and Maria Pachecos' downtown restaurant and you quickly get a sense of two things: their strong Mexican heritage and their family's tradition of serving in the U.S. Marine Corps.
In fact, Maria's Mexican restaurant, 314 S. Main St., is easy to spot because of the red Marine flag hanging outside the entrance.
Along one wall inside the long, narrow restaurant can be found dozens of photos of Pacheco family members and family functions, including some of relatives still in Mexico. Also on the wall are Sam Jr.'s grandfather's 1920 border crossing card and identification photo.
"Basically, it's what you'd call a green card," said Sam Jr., 49, as he talked about the restaurant he and his wife opened four years ago.
On the other wall are photos of family members serving in the Marines, a tradition that started with Sam Jr.'s father, Sam Sr., and uncles John and Jesse, who served in Korea and Vietnam. Sam Jr. also served, signing up out of high school at age 18.
"For me, it was because of my dad," Sam Jr. said. "It was the way he carried himself. Even now he's still creased and polished. I also was around other former Marines and I wanted to follow in their footsteps."
But there are other photos on the wall as well, showing other people from the Ottawa area who served in the military.
"When we opened the restaurant we had only two or three pictures on the wall," Sam Jr. said. "People would come in and say they had a dad who served in the Marines. We thought, why don't we make it a community wall to honor the area veterans? We've got doctors and coaches up there. I think people like seeing them."
People serving in all the military services except the Coast Guard are now represented by photographs, Sam Jr. said. The photos aren't just studio close-ups; they include those taken at military bases and functions. One shows Sam Jr. and Maria standing with R. Lee Ermey, a former Marine drill sergeant who gained notoriety in the movie, "Full Metal Jacket" and the History Channel's "Mail Call" show. They saw him at a Marine Corps birthday celebration in Kansas City, Mo.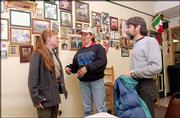 The Pachecos' Marine connection makes the restaurant a frequent stopping point for others who served in the corps and in town looking for a meal, said Wint Winter, a former state senator who served in the Marines during the Korean War at the same time Sam Sr. served.
"It's certainly an attraction to Marines," said Winter, who has his own photo on the wall. "Marines have a special espirit de corps. Once you are a Marine you are always a Marine."
The Pachecos have two daughters, Sara, 19, and Veronica, 15, and two sons, Sam III, 22, and Jesse, 21. Sara now serves in the Marines.
"She had been talking about going into the Marines since she was a little girl," Sam Jr. said.
"I'm real proud of her," Maria, 43, said of her daughter. "She always wanted to be a Marine. I thought she'd forget about it but she never did."
Sara is stationed in an office at what used to be Richards-Gebaur Air Base near Grandview, Mo., but her parents know that in today's war on terrorism, that can always change.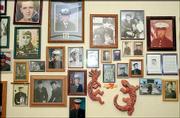 "You are a little bit apprehensive about what the future might hold for her," Sam Jr. said. "I told her that this (joining the Marines) had to be about her and not about us. She knows full well what the possibilities are."
The restaurant is open from 7 a.m. to 1:30 p.m. Monday through Friday. It also is open from 4 p.m. to 7 p.m. Friday. The Pachecos say they plan no major changes to the restaurant, managed mainly by Maria and a few family members. Sam Jr. has spent 20 years working with SBC as a service connector.
In addition to the photos, the Pachecos also decorated parts of the restaurant with sombreros and other Mexican mementos.
"We just want to keep it a little place," Sam Jr. said. "It might remind you of someplace you might see in Mexico."
Copyright 2018 The Lawrence Journal-World. All rights reserved. This material may not be published, broadcast, rewritten or redistributed. We strive to uphold our values for every story published.